Boris Karloff had conquered practically every medium open to an actor by the 1940s. From the touring stock companies and silent movies of his early days, to starring roles in sound movies, radio dramas and finally the Broadway stage, he did them all with equal professionalism and skill. When television came along, Karloff wasted no time in tackling the new medium. By the end of 1949 he had already done his first series, Starring Boris Karloff, which ran for 13 episodes on the fledgling ABC network. Throughout the 1950s he lent his talents to such classic shows as Studio One, Playhouse 90, Hallmark Hall of Fame and many others. He made guest appearances on most of the popular variety shows of the day usually poking fun at his horror image. One of his favorite TV roles was as Col. March of Scotland Yard in the 1954 series. Today, very little of Karloff's early TV work is widely available, but many Monster Kids of the '60s still have vivid memories of the atmospheric anthology series THRILLER hosted by the once king of big screen horror who now brought new tales of terror and suspense into their living rooms each week. Gordon B. Shriver gives Monster Kid readers a look behind the scenes of THRILLER with this except from his new book, Boris Karloff: The Man Remembered.
In 1959, TV producer Hubbell Robinson was scouting around for a new series to air on NBC, the network he had once been president of. When he left that position, NBC settled his contract by giving him two hours of prime time to fill. One would be 87th Precinct , based on the Ed McBain novels. Robinson's concept for the other was, as he put it, "the Studio One of mystery." He wanted the series, known as Thriller, to be an anthology, with different casts and stories every week that would draw upon the works of writers such as Edgar Allan Poe and Cornell Woolrich.
To help bring this about, Robinson recruited Fletcher Markle, an alumnus of Studio One, as executive producer, and writers Maxwell Shane and James Cavanagh, the latter as story editor. The host was Boris Karloff, who agreed to the project wholeheartedly under the terms that he could perform in the series, as well.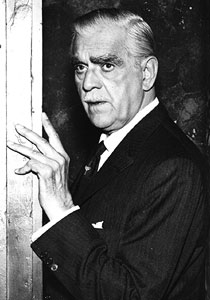 Robinson told me, "When I first discussed the idea with David Levy, then vice president in charge of programming for NBC, Boris was my recommendation, with which he was in total agreement. To the best of my recollection, no one else was ever considered."
Once Thriller went on the air in September of 1960, those involved could not seem to reach a consensus on the type of story material the show required. Fletcher Markle informed me, "We put together a wonderful pilot (directed by Arthur Hiller, pre-Love Story), which sold the series in a matter of days. I wrote the intros for Boris initially, but once we were into production on a series basis, a bizarre conflict developed between the then head of the studio and myself. It had to do with quality vs. quantity, an ancient TV battleground, and in this instance, I was happy to lay down my lance."
What the creative personnel couldn't agree on was whether Thriller would be a horror or suspense program, or a combination of both. Within weeks of the premiere, reports appeared in Variety saying that Allstate, one of the sponsors, found some of the content objectionable, especially scenes of an axe murder and a strangulation. The company had believed Thriller would rank with such series as Alfred Hitchcock Presents and The Twilight Zone.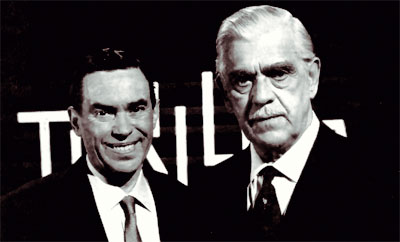 Thriller Producer Hubbell Robinson with his new star.
By October, Thriller focused primarily on horror stories. Douglas Benton, who soon became associate producer, explained: "After they ran the first six shows, NBC called Universal and said they were going to cancel because they were getting the same story week after week, and weren't pleased with production values. Lew Wasserman, who even then was chief executive officer at MCA, looked at all six hours in one running, and the next morning, he had the show taken away from Fletcher Markle, and assigned it to William Frye, who for many years was producer of the filmed segments of the General Electric Theater."
Before Frye assumed Markle's duties, some criticism of the show fell on its host. A TV Guide article a few months later said "some people" believed Karloff was a poor host and seemed ill-suited for the job, as opposed to Alfred Hitchcock, who hosted his own show. This reaction appears to have been unjustified. William Frye told me, "Boris was always considered a first-rate host and, when after two years the series was discontinued, we received thousands of letters asking why, and praising Boris." Hubbell Robinson concurred: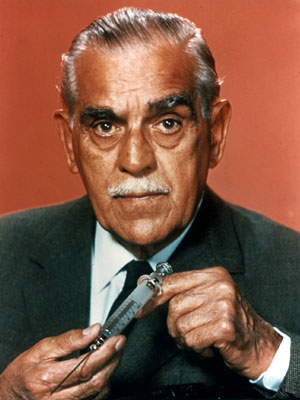 "The network thought Mr. Karloff was an ideal and excellent host." He added (responding to the article's statement that "most impartial observers agreed Karloff is not ideally suited to the role"), "I never heard anybody make any remark of that sort whatsoever. He enjoyed it and I would say he was one of the show's great strengths."
Frye was a personal friend of the Karloffs, and once he took over Thriller improved. Noted mystery and fantasy writers Charles Beaumont, Robert Bloch, and Cornell Woolrich contributed scripts, and among the directors were Paul Henreid, Ida Lupino, and Ray Milland.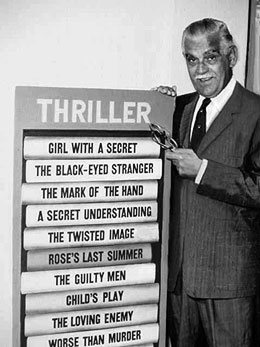 Boris Karloff with a list of early Thriller titles including a couple that were never used. Perhaps they were replaced by more horrific stories.
Douglas Benton remembers, "I was amazed at how much energy Karloff had. He had a tremendous sense of humor, and was very happy that Bill had been put on the show, and we had already begun to work out a new format. He was very enthusiastic about this. He watched the show on the air and we got criticism. Some. Not as much as you'd think, because he seemed to like everything we did, and was very desirous of doing as many of the stories as he could himsel
A frequent scriptwriter was Donald Sanford, brought on for a rewrite when Frye came aboard. He remembers, "Frye was a fabulous guy because he liked his writers to come into the first cast reading of a script, which is unusual in this business. Generally, they want to get rid of the writer as soon as they can. Frye insisted writers be there, and would not allow the directors to change one damn line unless he approved of it.
"I had a chance to work with Boris because I was at the readings of the scripts I wrote for him. Boris would come in letter perfect. He gave his reading with exactly the reading he would give in front of the cameras, without looking at the script. He could read a double-jointed or triple-jointed line with no problems at all. By that I mean a complex sentence that has a lot of information in it. Give 'em a lot of information in a line and you don't get it. Unless you have a very good actor. Boris was a consummate expert."
Karloff as a night club entertainer whose psychic act suddenly becomes too real in "The Prediction".

Karloff would appear in five episodes, the first being "The Prediction" about a nightclub mentalist who finds he can actually predict the future. Douglas Benton described the filming: "I'll never forget one night on the back lot. John Brahm, really an expert in the horror genre, was directing Mr. Karloff. The scene was for him to be killed, he fell in the gutter, and this great wash of dirty water swept over him. In fact, it went through him.

He was lying on an incline with his head down, and the water ran up his pants leg, through his clothes, and came out his collar. Mr. Brahm instructed Mr. Karloff where he wanted to fall, and said, 'Then we'll put in the double and run the water.' Boris looked at John, offended, and said, 'Oh, no, I wouldn't allow anybody else to do that. That water was meant for me.'

Showbiz trouper Karloff insisted on lying in the pouring rain for his final scene in "The Prediction".

And, by golly, he laid down, they made three takes, and every time he was drenched. I think that was the time I said to him, 'My God, Boris, you're at a time in your life and on a plateau in this business that you don't have to do that sort of thing.' 'Have to?' he said. 'I want to.' Then he went into his speech about how marvelous it was to make a good living doing what you enjoyed so much."

Star-crossed filmmakers. Robert Florey (above, left) was originally slated to direct Universal's Frankenstein with Bela Lugosi as the Monster. The movie was instead filmed by James Whale who selected Boris Karloff for the Monster role which made him a star. 30 years later, Florey finally directed Karloff in "The Incredible Dr. Markesan", one of the creepiest episodes of the series with Boris turning himself and others into living corpses.




Left: Dr. Markesan's colleagues at the University laughed at his incredible theories of immortality. They don't seem to think it's so funny now that they have become living (?) proof that the doc wasn't quite as nutty as they thought.