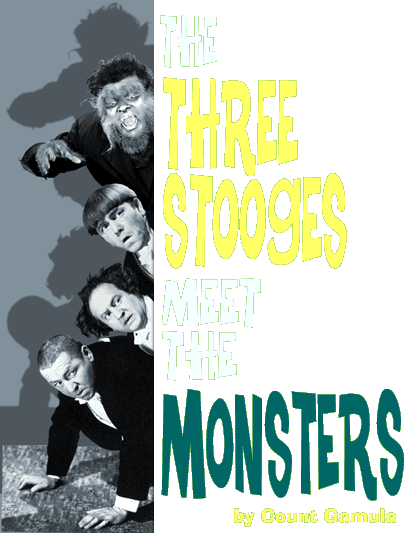 For kids of the late fifties and early sixties there were certain inescapable forces that made an indelible impact on their formative years. Afternoon TV viewing had become an essential part of life for baby boomers. Almost very TV market across the country had its own local kids' show host who presented an array of cartoon entertainment like Bugs Bunny and Popeye to young audiences who were being introduced to decades worth of Hollywood magic in concentrated doses.
Then in 1958, something hit that generation like a slap in the face and a poke in the eyes. Columbia Pictures' TV subsidiary Screen Gems dusted off seventy-eight old two-reelers starring a then washed-up comedy team and offered them to local stations.
The Three Stooges exploded onto afternoon TV and American kids were never the same. Moe Howard, Larry Fine and Jerry "Curly" Howard, who began their career in Vaudeville as Ted Healy and his Stooges, made a shaky transition to the movies and had a difficult time finding their niche in the business until they left Healy and signed with Columbia as The Three Stooges
The team's wildly violent humor, though worrisome to parents, delighted kids who, in addition to slaps and roundhouse conks on the head, had begun making strange "nyuks nyuks" sounds, calling each other things like "numbskull" and "knucklehead" and running/spinning in a circle on the ground going "Woo woo woo woo." Curly was everybody's favorite Stooge because of his childlike personality and outlandish physical humor.
The Stooges made an amazing 190 short films, all of which were eventually released to television. In 1946 the beloved Curly suffered a stroke and was replaced in the team by older brother Shemp who had been an original member of the Stooges before beginning a successful solo career. Shemp died suddenly in 1955 and Joe Besser became the third Stooge for the remainder of the waning series. After Columbia discontinued producing shorts, The Three Stooges went back to live performances at small venues with their old Vaudeville pal Joe DeRita joining the team as "Curly Joe". However, the Stooges and their act had begun to grow old and audiences weren't responding as they once had.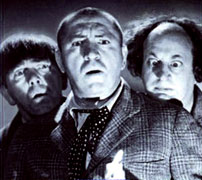 Just when it looked like they would spend their final days playing Holiday Inn lounges, the rediscovery of their early shorts by millions of TV watching kids brought them back into the limelight. Columbia re-signed them for a series of feature films aimed at young audiences and soon the Three Stooges were back on the big screen. The feature films of the Three Stooges entertained a new generation of moviegoers while their classic short subjects made them a permanent part of the TV landscape and of the lives of millions of kids of the '60s, '70s and beyond. The Stooges were an essential part of local television programming of the '60s along with other rediscovered vintage entertainment like the Johnny Weismuller Tarzan series, Abbott and Costello movies, Our Gang comedies and of course, the classic Universal horror films being shown in cities across the country on various versions of SHOCK THEATER.