Monster Kid Online Magazine #5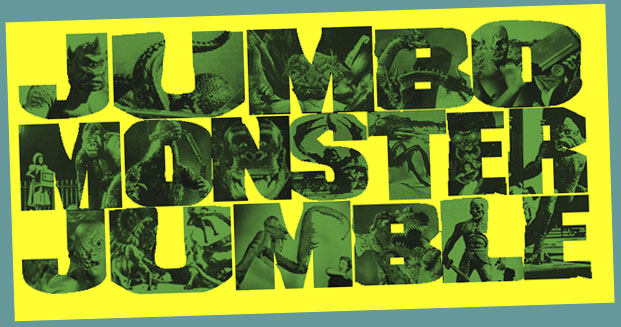 FIND THE NAMES OF THESE KING-SIZE
CREATURES IN THE WORD JUMBLE BELOW:

King Kong
Godzilla
Gorgo
Konga
Reptilicus
Ymir
Tarantula
Ghidrah
Rodan

Cyclops
Them
Talos
Gwangi
Gamera
Hedorah
Varan
Kraken
Mothra
Mighty Joe Young
Fifty Foot Woman
Amazing Colossal Man
Giant Behemoth
Black Scorpion
Deadly Mantis
Rhedosaurus
Son of Kong
Giant Claw
The names may be forward, backward, up, down or diagonally. There are no spaces between words and some letters may be part of more than one name.
WINNERS!
The first 10 correct entries received
free copies of the first issue of
MONSTER BASH
Magazine
from Creepy Classics!

Congratulations to:
J. Marcinkowski, John Rozum, Matt Drinnenberg, Mike Worley, Paul DeRycke, Raymond Castile, Tim Lindsey, Van Beydler, Mike Davis and Rich Samet.