Monster Kid Online Magazine
Rondo Time

Voting for the third annual Rondo Awards is now underway. The award is fan-based and honors the year's best contributions to classic horror, science fiction and fantasy. Categories include movies, TV, DVDs, CDs, toys, books, magazines, articles, web sites and more. Voting is done by e-mail and ends at midnight February 19, 2005. Winners will be announced the following day at the Rondo Awards web site. So let your voice be heard. Vote for your choices for the best classic horror items of 2004 by going following the link below to the 2004 Rondo Award ballot.
Lost Frankenstein Star Found!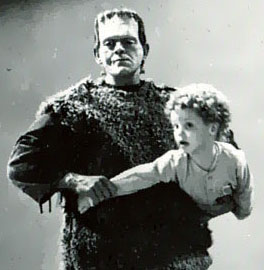 For years horror fans have been asking "Whatever happen to Donnie Dunagan?" The little actor who played Dr. Frankenstein's son, Peter, in SON OF FRANKENSTEIN and appeared again with Karloff and Rathbone in TOWER OF LONDON seemed to vanish soon after providing the voice for the young BAMBI in Walt Disney's animated classic. Recently Dunagan (who recently turned 70) was finally found and soon ace film historian and interviewer Tom Weaver was on the case obtaining the monster scoop of the decade. Tom told Monster Kid:
Donnie Dunagan's been near the top of my "find-and-interview" wish list for years now, but to tell the truth I figured that if he ever WAS found, he wouldn't have much to say -- he was, after all, just barely four when SON OF FRANKENSTEIN was made. So all the time that I -- and, believe me, others! -- spent calling up every Don, Donnie and Donald Dunagan in the U.S. that we could find, there was always the nagging suspicion that all he'd be able to provide would be second-hand stories told to HIM, by his parents, years after the making of the movie. Well, I've never been more pleased to be wrong -- the guy has incredible recall and tells one highly entertaining story after another. In other words, "He's not like Aunt Fanny!" And just as marvelous were his stories of his "second life," as a career Marine. This had to be one of my most fun and satisfying interview experiences in all my years of doing this stuff -- and, sad to say, it'll probably also be the last-ever all-new interview with a veteran of the Universal horrors.
Video Watchdog #112 features the exclusive interview with the long lost child actor relaying his recollections of filming the classic Frankenstein film. The special Donnie Dunagan signature edition is now available through the link below. Don't miss it!
Farewell to two movie "Ape girls"
Fay Wray (1907 - 2004)
Fay Wray, whose beauty brought down the mighty Kong, passed away on August 8 at her home in New York. She was 96. She began her film career on the silent screen in the mid-'20s and made more than 90 movies appearing with such co-stars as Gary Cooper, Ronald Colman, Paul Lukas, Frederic March, Claude Rains, Spencer Tracy, Joel McCrea and Wallace Beery. But her most famous role remained the girl in the hairy paw in the 1933 fantasy classic KING KONG. "I used to resent `King Kong,'" she remarked in a 1963 interview. "But now I don't fight it anymore. I realize that it is a classic, and I am pleased to be associated with it." Fay Wray will always be remembered by horror fans as the reigning scream queen of the 1930s. Besides the giant monster thriller, she also lent her lovely presence and her healthy lungs to horror favorites DOCTOR. X, MYSTERY OF THE WAX MUSEUM, THE VAMPIRE BAT and THE MOST DANGEROUS GAME.

Acquanetta (1921 - 2004)
She was known as"The Venezuelan Volcano" in her publicity but Burnu Acquanetta was actually born on an Arapaho Indian reservation in Wyoming. The fashion model turned B-movie actress is best remembered by Universal Horror fans as Paula Dupree, the Ape Woman in CAPTIVE WILD WOMAN (1943) and JUNGLE WOMAN (1944). Both were part of the SHOCK movie packages released to local TV stations in the late '50s. She also appeared in the Inner Sanctum Mystery DEAD MAN'S EYES (1944) with Lon Chaney, Jr. And at RKO in what was probably her best role, she heated up the jungle as the shapely leader of a jungle cat cult in the escapist classic TARZAN AND THE LEOPARD WOMAN (1946).
Acquanetta died August 16, 2004 at age 83 after a lengthy battle with Alzheimer's. She wasn't known for her acting ability but her sultry beauty made a lasting impression on generations of movie watchers and Monster Kids.
More Crazy Hip Groovy Monsters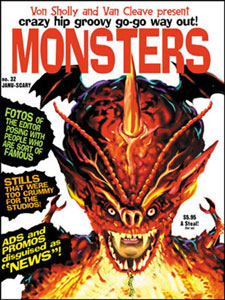 That mad storyboard and photoshop artist Pete Von Sholly is at it again. The second issue of CRAZY HIP GROOVY GO-GO WAY-OUT MONSTERS, his irreverent send-up of monster mags of yesteryear, is coming your way this fall. It's due Oct. 13 from TwoMorrows. Don't say we didn't warn you.
The official hype says:
Do you like OLD MONSTER MOVIES? Do you like OLD MONSTER MOVIE MAGAZINES? Do you like to laugh like an HYSTERICAL MANIAC? Chances are you like one of them things! If so you will FLIP OUT at the SECOND GREAT ISSUE of CRAZY HIP GROOVY GO GO WAY OUT MONSTERS, the RETRO MONSTER MOVIE MAGAZINE that is a laugh riot lampoon of those GREAT (and absolutely abominable) magazines of the 1950s and '60s! Relive your misspent youth (not to mention your misspent allowance) and become the Blob yourself as you dig the hilarious photos, ads, and articles skewering OUR FAVORITE THINGS of the past... all in the MONSTER MAGAZINE that you will have you saying once again, "Why did I buy that?"
Ask your local comics shop to order it or order your copy online.
Monster Comics News
The team that brought you the recent horror hit THE BLACK FOREST has a new tale to tell. Get ready to saddle up and hit the trail for THE WICKED WEST, a graphic novel written by Todd Livingston and Robert Tinnell and illustrated by popular comics artist Neil Vokes. Scheduled for this October from Image Comics. They say it's the story of How the West was Weird:

Imagine the Outlaw Josey Wales riding into Salem's Lot -that'll get you to the core of THE WICKED WEST. 1870 - The Texas frontier town of Javer's Tanks. Cotton Coleridge is a man running from his past. And being new in town, he's the one locals blame when folks start dyin' mysteriously. By the time the truth gets out, half the town has died - and come back. Cotton's quick with a gun - but guns don't work on vampires!

For more info check out: The Wicked West