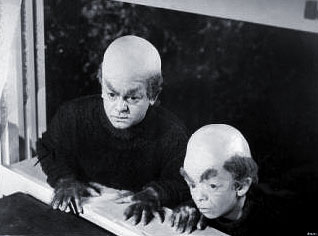 This same year Billy Curtis (left) appeared briefly in another sci-fi classic subbing for James Arness when he got whittled down to size at the end of The Thing.
MK: Well, it was very effective. For the time and the budget that you had, it came off very well. The tall, bald head gave it a strangeness, and yet they were very child-like and almost cuddly. I know I, along with every other kid that grew up watching the show, felt extremely sorry for them.
HT: That's right. That's what I wanted. You see I wanted the audience to be sympathetic too. I wanted them to seem pathetic. "This is not our world. Let's go back to it." And they never did any harm to anybody, so if they were vicious and mean and ferocious looking it wouldn't have worked. I always tried to make the make-up add to the story and help it make sense or add to the character. I used to add a little shading to the sides of George Reeves' nose to make his nose look thinner, and I tried to bring out his jaw as much as I could to give him the look of Superman.
MK: Reeves' hair was prematurely gray. Did you ever color his hair when you were working on the series?
HT: Oh sure. Yes, his hair was gray prematurely. It was hereditary on his mother's side. He would dye it every two weeks. We would always touch it up every day on the set. I used food coloring. Of course, it was a big secret. We weren't supposed to let anyone know. After Superman and the Mole Men, when we did "Superman On Earth" where they send him off in a rocket, I aged his earth parents twenty years. I added gray to their hair.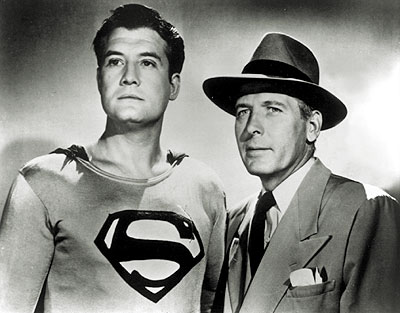 George Reeves and Robert Shayne during season one of The Adventures of Superman filmed in 1951.
MK: Had you ever met George Reeves before working on Superman?
HT: I had seen him. I was one of the make up artists on one of his other pictures. He did other things, but this was the main thing in George's life. There was nobody who looked more like Superman than he did, facially, and he had a good body, too, but I think that the wardrobe was just a little too overdone with the padding.
MK: Did you get to know him well and become friends?
HT: Oh, yeah. He had a certain privacy that he wanted, and he was rather selective. I met him once up in the canyon just before he died and he said, "Gee, hold it there. We're going to have something soon. I'm going to direct, and I want you with me." That was the last time I saw George. We parted friends.
MK: Speaking of his death, do you have any opinions about his supposed suicide?