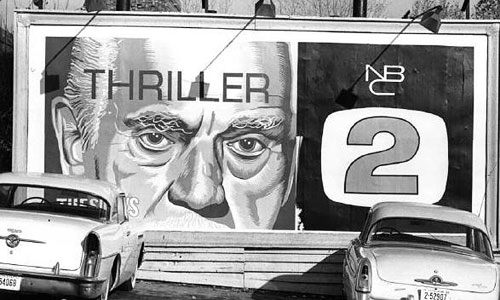 A billboard for THRILLER in Tulsa, Oklahoma in 1962.

Henry Daniell, Karloff's co-star in the classic THE BODY SNATCHER, appeared in three THRILLER episodes including "The Cheaters."and "Well of Doom." Bottom: past Dracula John Carradine as a southern vampire in "Masquerade"
After its shaky beginning, Thriller drew enough viewers to last a full season, and was picked up for another. Making guest appearances were some of Karloff's past co-stars such as John Carradine and Henry Daniell. It was on Thriller that Karloff met and became friends with Robert Bloch, who wrote several episodes, in addition to the novel Psycho. In 1981, Bloch told me, "He was a fine and intelligent actor–and never, except in The Lark [the 1955 Broadway hit with Julie Harris] did he really get much opportunity to demonstrate his capability for serious drama.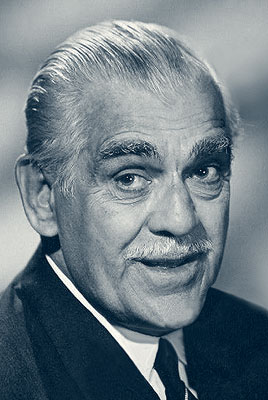 He told me this was his best role. What he probably would have liked was to have starred in a play for London's West End, but, he told me ruefully, he was too old for such a grind." According to Evelyn Karloff, her husband was offered a run in London of Arsenic and Old Lace, but was indeed too far along in years to handle it.
Another of Karloff's acting assignments on Thriller was in "The Premature Burial", based on the Poe story. Douglas Heyes, who directed it (his credits included some of the best-remembered shows of The Twilight Zone) recalled, "One thing I noticed, having been brought up to think of him as the Monster or in some hideous make-up, was that he was a strikingly handsome man. He had style, elegance, and wonderful soulful eyes, which illuminated all his characters and set them apart from the over-gruesome ghouls you see today."

Scenes from "Premature Burial" with Boris Karloff as a physician whose friend is buried alive by his scheming wife.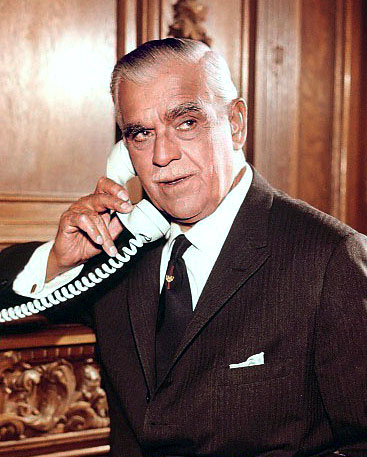 "I had a sequence in which his character had to climb a flight of stairs to a balcony, and I was going up with him on a crane. We had some truly inept guys working the crane, and though Boris did his part of the scene perfectly every time, the camera kept blowing the shot due to technical difficulties – a euphemism for screwing up. Karloff's legs were killing him, but he went up and down that long staircase again and again, never complaining or blaming anyone until we got it right. His greatest lamentation was to murmur on occasion with a gentle sigh, 'My, my, this business does eat into your day!'.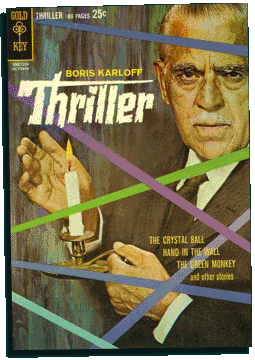 The first issue of the Thriller comic book dated October 1962.
Thriller was inevitably compared to Alfred Hitchcock Presents. Not only were the formats of the shows alike, but they were both on NBC, and at one time, aired on the same night, back to back. After the second year, Thriller was considered very successful, but the network had run out its commitment to Hubbell Robinson, and canceled it. However, there may have been more to it than that. Thriller was the first hour-long series of that type, and Alfred Hitchcock Presents was a half-hour. When he chose to expand his show, Thriller was no longer available.
In the time since, Thriller has been in and out of syndication, and enjoyed something of a rebirth, to the pleasure of horror fans then and now. Among that legion is Stephen King, who appreciated the show for a number of reasons. In Danse Macabre (1981), his entertaining overview of horror in popular culture, King termed Thriller "probably the best horror series ever put on TV."
| | |
| --- | --- |
| John Abbott adds another victim to his sculpture gallery by revealing the head of the legendary Medusa in "Trio for Terror." | |
A fascinating photo of Karloff making a return visit to the Universal make-up department. At far right is the Medusa head created for the THRILLER episode "Trio For Terror". Also on the table is a Mr. Hyde mask from ABBOTT AND COSTELLO MEET DR. JEKYLL AND MR. HYDE, a cast of Glenn Strange used for created his head appliances for ABBOTT AND COSTELLO MEET FRANKENSTEIN, a lifecast of Karloff done in 1953 to create the mask he wore as Mr. Hyde, the Mummy mask worn by Eddie Parker in ABBOTT AND COSTELLO MEET THE MUMMY and the disembodied head from one of the final Universal horrors of the '50s, THE THING THAT COULDN'T DIE. Barely visible on the top shelf in the background are design sculpts from THE CREATURE FROM THE BLACK LAGOON, THE LAND UNKNOWN and THIS ISLAND EARTH.