• "Alone bad---Friend good!---Friend good!"
Hello to my fellow monsters! Of course I don't have to explain the quote from "Bride of Frankenstein" to the old veterans. It's the monster's comment to the blind hermit.
That is how I feel having found Monster Kids today. I went to the Horror-Wood website for my monthly installment of monsterdom and found the link to your site. It is so nice to see monsters back on top. During the 80's (1980's that is) I put aside my monster kiddom for more "adult?!?" interests. The Famous Monsters magazines were buried in my parent's basement (something inside my heart could not bear to part with them). Many items were gotten rid of though. My mother, like so many of our evil hearted mothers back in the 80's, made me rid my room of my Aurora kits and (gasp) sell them in a garage sale. I started getting interested in things that I had no interest in mainly because of my desire for a possible mate. That didn't happen for many years. Finally in 1995, I met her. "Sleepless in Seattle" was the big movie then, and I thought for sure that my blind date from a personals ad would want to see this. No! She wanted to see "Wolf" starring Jack Nicholson. This sparked a conversation about all things dark and horrible, all creatures black and white. My future bride, Sarah, was a fan of horror movies! She grew up at the tail end of the Hammer Horrors and was a particular Vincent Price fan, but she has since been introduced to Bela and Boris and Lon. She talked me into revealing my true nature. I no longer have to Hyde myself. I am a Monster Kid and am proud of it. Sarah led me down the dark recesses of my parent's basement and helped me revive the hidden horrors that dwelt down there. My Famous Monsters are now well protected and looked at in our house. She even gave me several Polar Lights remakes of some of the victims of my mother's house cleaning. I am also now the proud owner of the Guillotine kit my mother always refused to buy me!
I just want to say I am glad that there are more than just a few of us creatures of the night out there. Thank you, Monster Kids for helping us revive old memories and for helping to spark a new generation of fans. My two year old does a great Wolf Man impersonation, just like his old man.
With fondest regards,
Karl Bockemeier
Glad you found your way back to the cobblestone streets of Vasaria after wandering off into the real world for a while. Our thanks to Sarah for casting the spell that conjured up the monster kid that was still lurking inside. It doesn't sound like any of your son's monster toys will end up at a garage sale.
---

• For the first time I saw a picture of Henry Hull's original makeup for "Werewolf of London", thanks to your wonderful magazine. Now, can you find Bela Lugosi's test makeup for "Frankenstein"? Another thing I would like to know is what ever happened to Frankenstein's neck bolts? Somebody must have kept 'em. I look forward to your next issue of thoughtful, well written articles.
-Mike Swofford
Thanks, Mike. The Lugosi test reel for the original FRANKENSTEIN appears to be lost to the ages, but who knows? Maybe it'll show up on Ebay along with the Monster's electrodes. Thanks for the picture, too. Now that Nosferatu has appeared on Spongebob Squarepants, I'm sure all the kids will recognize him. Be sure and send us a picture from this Halloween. What? That's not a Halloween picture? Then why do those two kids look so weird?
---
• Just came across your site and loved every minute of it. As a kid growing up in Red Bank, NJ, I spent my Saturday nights in the laboratory (my basement) putting putting together all the classic monster model kits I could get my hands on. At the price of $1.98 a model it was pretty easy on my parents' wallet, and while I watched Creature Feature on TV I was out of my parents' hair for the evening. I have always held all the classic monsters close to my heart, but there was one movie that scared the dickens out of me -- CARNIVAL OF SOULS. I used to see that one ghoul in every closet and around every corner. But that was the fun of those great old movies. Keep up the good work and you have another dedicated reader, or should I say visitor? Loved the wallpaper you added in the second issue. Hope you add more in future issues!
Jim Lake
Aurora monster model kits were just about the coolest thing you could have on your shelf back then. Lots of fun to build and paint. My Frankenstein model partially melted when I sat him too close to the space heater in the TV room the night I first saw BRIDE OF FRANKENSTEIN on Shock Theater. Good thing they were so cheap to replace.
---
• Gentleman,
This is so great! I had these magazines and, along with baseball cards, threw them all out (Classics Illustrated too!). But you know, who knew? I truly miss the classic horror films! Not only were the great entertainment but now, they allow me to recall Saturday afternoon local TV shows like Chiller Theater and Creature Feature. Nothing like that today. These classics, many of them rooted in classic literature had class unlike today's slash and gore, cut them up flicks. Thanks so much for the site and keep it up!
Vincent DiCostanzo
Thanks, Vince. We're glad MK brought back some memories. As for your old monster magazines and comics, repeat after me: "Never throw anything away!"
---
• My, oh my! I loved Monster Kid. Born in '69, I never really got to taste fully the mania of the 50' and 60's. Nevertheless, I have been taking in every Monster film, etc., I can my hands on. Yours is ...... Quite Refreshing. Well written, tongue in cheek, and great photos. Even yours. (Looks great!!) Since I came upon it, I continued to check for number two. Again, I loved this one as well. I really look forward to the third issue. Keep up the INCREDIBLE work!
John DeGarmo
Sorry it took so long to get around to issue 3, John. Hopefully, now that I 'm fairly far into the learning curve for Macromedia Dreamweaver I'll be able to update the site much more often so keep checking back.
---
• This E-mail is in response to Curt Hardaway's letter that was posted in Monster Kid Magazine #2. I agree with Mr. Hardaway: It IS a scary thought when one ponders how long people will care about the classic monsters after we 40-, 50-, and 60-somethings join Bela, Boris, and Lon in the Crypt Keeper's pit. I know I'm doing my best to transfer my monster kid spirit to my daughter, Selena, by screening classic Universal DVDs every Saturday night (sometimes two or three movies per sitting!). Selena has grown to love this time we spend together with our creepy celluloid friends, and it helps me relive my past, growing up in Pennsylvania in the early 70's, when I would tune in to Dr. Shock with MY mom and dad every Saturday night and savor the magical worlds of various Frankensteins, two (or three, if you consider Chaney) Count Draculas, and one very special Wolfman. It's really incredible that I can still watch the classic Universal films, over and over, and never get tired of them. And now my daughter has caught the monster "bug," and it's something special we have in common, something that SHE might pass on to her own kids someday.

Ed Polgardy

Monster Kid of the Month

Countess Selena Polgardy
Well, Ed, I can tell by the picture that all those monster movies haven't hurt Selena any. She looks like a normal healthy American Monster Kid. Let's hope she and others her age who have caught the classic monster bug from their parents will carry the torch (and pitchfork) to the next generation.
---
•Greetings Night Creature.
I have been Austin's one and only horror host since October 1999. I host movies every Halloween on affiliate stations KNVA 54, KTBC Fox7 and local station KVC-13. In October of 2001 I began a weekly show on local cable (see Scary Monsters magazine #41). I must say, your feature on Gorgon the Gruesome was wonderful... quite inspiring. I had the great pleasure of co-hosting the Austin Film festival's all-night horror-thon with Tobe Hooper in 2000. Tobe and I spoke about the "lost art" of horror hosting and he talked at great length about watching The Gorgon when he grew up and how he LOVED it.
As a proud member of the Horror Host Underground, I do my best to keep the tradition alive (or is it Un-Dead?) with self- syndication (Currently I'm on the air in Austin, West Virginia, and New Jersey) and appearances, promotions and hosting live shows. (I host WHITE ZOMBIE live in Austin in May). There is a link to Prof. Griffin's Midnight Shadow Show below... check it out and let me know what you think. There's still lots to do, and I added a few sections of more 'modern' horrors, because my viewers demanded it,... but my heart belongs in black and white, "if you know what I mean and I think you do".

Rest In Peace, Prof. Griffin
The Midnight Shadow Show
http://www.midnightshadowshow.com
Thanks for the kind words about the Gorgon article, Prof. It's a subject very close to my heart since it was his show that introduced me to the Universal horror films. Glad to hear there are a few new creepy characters out there striving to keep the horror host alive(?) and well. After all, being"underground" is no big deal for most of you ghoulish guys and gals. Just don't forget your shovel. I encourage all of our readers will drop by Prof. Griffin's website to check out the fun for themselves.
---
• Love your website and I want to tell you that Hammer Films are the Best Classic Horror Films present Today! Here's a picture of me: attached too. Please feel free to post on your website....

AGENTBILL

Bill - Thanks for the picture. We've passed it on to the FBI Anyone who thinks Hammer films are better than Universal should be investigated. Actually, we think Hammer is great too. Check out the 3-D section for a few shots for those bad boys from Britain.
---
• Just visited your web for the first time, and I really got a great kick and lots of chuckles out of it. Cool, cool site. If I can be of any help or contribute in any way, let me know.
Dick Sheffield (a true Monster Kid, but of the 50's)
Great to hear from you, Dick. In case some readers don't know, Richard Sheffield was not only a horror movie fan while growing up in the '50s, he was also lucky enough to be a personal friend of Bela Lugosi's during the actor's final years. An excellent documentary that he co-produced with Gary Don Rhodes called LUGOSI: HOLLYWOOD'S DRACULA is now available on DVD. You can order it at: www.lugosidvd.com
---
• Wow. This site has been quite helpful to me. I am new to the monster kid area of monsterdom (the monster kid phenomenon?) Actually, I'm too young to have been an original monster kid.. I missed out.. big time! But I enjoy learning more about the classic films and stars and little- known facts. I like seeking out monster kids and reading about what they have to say. And although I'll never really know what it's like to be a Monster Kid I'm glad you are all out there.
Alice
We're glad you're out there too, Alice.You may not have been around in the '60s, but being a Monster Kid is as much a state of mind as it is the time period in which you grew up. If Monster Kid Magazine gives you a glimpse of what it was like for those of us who were kids when the monster boom was at full steam and makes you wish that you were there, then I feel like we're doing something right.
---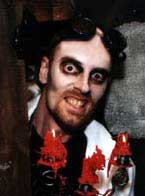 • GREETINGS! and congratulations on putting together such a fine online magazine as Monster Kid. I was overjoyed to run across this site. Please keep up the ghoul work! I would also like to invite you to swing by my site, http://www.chillercinema.com where I am known better as Dr. Gangrene, horror host for the past three years in the Nashville Tennessee area. I recognized your name from comic book work first, then saw it again in the Horror Host book by Ms. Watson... So you played Egor for Professor Cerebus, eh? Excellent! I always thought that looked like a fun show - and the illustration you did for that t-shirt is amazing! The article on Gorgon was great! Thanks and keep those coming!
Madly yours, Dr Gangrene
Thanks, Doc. Yes the great Count Gamula was once a lowly hunchbacked assistant on a local horror show in the Dallas area way back in the '70s. I had the pleasure of meeting the good Dr. Gangrene at the Monster Bash last summer and seeing some tapes of his cool show. Check out his website and let Dr. Gangrene set in for a while, but don't stay too long or we'll have to amputate.


---
• Kerry: Great fun online monster mag. Brings back to mind the original Forry Famous Monsters, World Famous Creatures, Fantastic Monsters and Monsters and Things magazines of the late 1950's and early 1960's. Love all the older monster movies of Universal, AIP and even Hammer Films of England. My favorite monster has always been the Wolf Man (and other werewolves like Landon's teenage version, Steven Ritch from 1956 and Oliver Reed's Leon Carido alter-ego.) Hope you cover films like INVADERS FROM MARS (1953), THE THING (1951)... note I have to put dates as Hollywood likes to get remake happy! Keep up the good work.
Bill Armstrong
We're glad Monster Kid reminds you of those great monster mags of the past. We hope we're doing those classic publications proud by following in their footsteps. We have to be careful where we step, though. Some of them left a slimy trail.