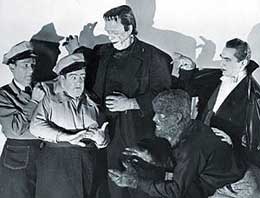 Bud and Lou's first and best meeting with classic monsters, Abbott and Costello Meet Frankenstein, which also featured Dracula and The Wolf Man.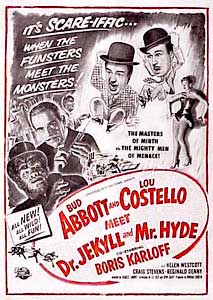 After failing to do the team in when they met The Killer, Karloff tries again as Dr. Jekyll, the straight man of a different sort of duo.
If you hang around with die-hard fans of classic Universal Horror films long enough, there are certain debates that are sure to surface. One topic that is certain to make fans draw up sides is the series of films which pitted Universal's top comedy team, Abbott and Costello against the studio's classic Monsters. There are a number of horror purists who feel that the "Abbott and Costello Meet..." films demeaned the classic monsters and cheapened their images. They dislike seeing the great horror characters reduced to playing straight men for the comedy team. Other horror enthusiasts enjoy these films just as much as the serious horror outings and feel that, even with the antics of Abbott and Costello, the monsters prove they can still pack a punch.
| | |
| --- | --- |
| I am among those fans who has a great deal of affection for the "Abbott and Costello Meet..." films where the boys matched wits with the likes of the Frankenstein Monster, the Invisible Man and the Mummy, although the films run the gauntlet from bonafide classic (A&C Meet Frankenstein) to watchable but forgettable (A&C Meet the Mummy).Also, I have found that these movies make wonderful introductions to the world of classic horror films for many of the small fry out there. | Mummy's boys Bud and Lou met the eerie Egyptian in their last movie for Universal |
The healthy mix of terror and laughs can be an excellent way to introduce young children to the eerie world that was created on the backlot at Universal's "Little Europe."

To put these films in their historical perspective, Abbott and Costello's horror/comedies are some of the team's best known efforts today. Abbott and Costello aficionados acknowledge that the better of these films represent the last big screen triumphs for the legendary comics whose career had begun to sag before teaming with the monsters. More importantly to horror buffs, these movies provided a last, glorious hurrah for the classic Universal Monsters before moving aside for the new wave of science fiction thrillers like Tarantula, This Island Earth and The Incredible Shrinking Man. Meeting Abbott and Costello gave our favorite monsters one last moment in the spotlight before gothic beasties were replaced by atomic terrors.


"Lou, The Invisible Man is here!"
"Tell him I can't see him, Bud."