A rare videotape record of NIGHTMARE from 1959
The man behind NIGHTMARE was a talented young employee of KFJZ named Bill Camfield. Born in nearby Mineral Wells, Texas, Camfield moved to Ft. Worth at an early age. He developed an interest in literature and theater and entered TCU as an English major with aspirations of being a writer. In 1949 he began working as a copywriter for a local department store and was soon in charge of their advertisements on the burgeoning medium of television. Taking quickly to small screen, he began to write and perform in the local programs sponsored by the store. In 1954 he became part of the staff of the newly created KFJZ-TV, Channel 11. Bill Camfield soon became one of the busiest workers at the station both behind and in front of the camera and was on his way to becoming a local TV legend.
When KFJZ-TV purchased the SHOCK package Bill Camfield, who had already created many characters for various local shows and commercials, was selected to host the movies, partly on the strength of his evil laugh. He was given free reign to write and produce the program. Drawing upon his interest in gothic literature he developed the character of Gorgon and worked to establish the eerie mood of the show. He chose a subtle but effective make-up and wore a black cape over a white shirt. NIGHTMARE made it's debut in September of 1957 amid much hoopla and was an instant hit with young viewers in the Dallas and Ft. Worth area.
NIGHTMARE received national attention and was featured in LIFE, POST and TV GUIDE magazines as well as Famous Monsters of Filmland . Gorgon was named one of the top three chiller peronalities of 1958.
NIGHTMARE originally aired on Saturday nights from 8:00 to 10:30 and featured two movies each week. Camfield preferred to run mainly pure horror films on NIGHTMARE so some of the features from the SHOCK package were run on the station's MYSTERY MATINEE on Saturday afternoons. At the end of 1959 KFJZ, feeling the films were being overexposed, put the show on a planned hiatus except for Halloween specials. Camfield's busy schedule might have been a factor in the decision too since he had recently begun his stint as Icky Twerp, host of the station's long running afternoon kids' show SLAM-BANG THEATER .
In 1962 NIGHTMAREreturned to it's weekly schedule now with one feature at 7:30 each Saturday night. The show proved just as popular as ever and ran in that slot for two more years. When country-western music programming took over the Channel 11's Saturday night lineup, NIGHTMARE was moved to Wednesday nights for several months before being taken of the air permanently.
After several years off the air, Gorgon returned to TV screens in 1972 for a Halloween spectacular. The station went all-out for Gorgon's return (now in color) converting the entire studio into a huge dungeon set for the showing of THE PIT AND THE PENDULUM. After a final return for a Halloween special in 1976, Gorgon and NIGHTMARE left the airwaves forever.
The impressive sets for the 1972 Halloween special
Bill Camfield left regular television work in the mid seventies and started a broadcasting consulting firm, The Camfield Company. In his spare time he also pursued his love of writing that had remained with him all his life. He began writing a newspaper column and completed two screenplays and a novel. In 1989 he was given a one-hour prime-time TV tribute with many local figures including Joe Bob Briggs and Spanky McFarland appearing to pay him homage. Hordes of fans turned out for the taping of the event. When Bill Camfield died in 1991 Ft.Worth/Dallas lost a one-of-a-kind TV pioneer who will be long remembered by thousands of baby boomers across north Texas.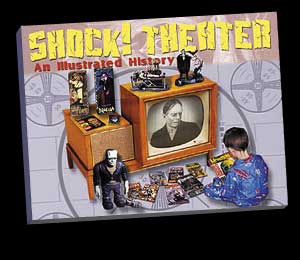 For more about the early days of local TV horror, we strongly recommend/ the new book SHOCK THEATER: AN ILLUSTRATED HISTORY. To order your copy, click on the book cover or use the link below to visit the Monsters From The Vault website.