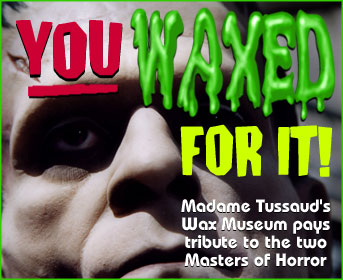 Boris Karloff and Bela Lugosi will never truly die. The classic characters they brought to life have survived far beyond the actors' lifespans and are now part of horror history. However, fans passing through the gates of the Universal Studios theme park recently may have thought that the two literally were immortal and had returned to the place where they had gained their original fame. In reality, the amazing figures causing the double-takes were wax replicas of the great actors as Universal's classic monsters. No, they were not created by the mad Professor Jarrod for his House of Wax, but are the work of the master artists and craftmen at Madame Tussaud's. The images of Dracula, the Frankenstein Monster and The Mummy have been painstakingly (or pain-stakingly in Dracula's case) recreated exactly as they appeared in the original Universal Pictures from the early '30s.
Bob and Kathy Burns went to the official unveiling of the parrafin pair'a fiends at Universal Studios Hollywood where they were on temporary display. They are now being moved (possibly by Chick Young and Wilber Grey?) to their permanent home at Madade Tussaud's Wax Museum in New York just in time for Halloween. Special thanks to shuddery shutterbug Kathy Burns for allowing Monster Kid to bring you these exclusive photos.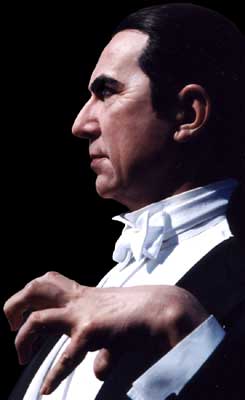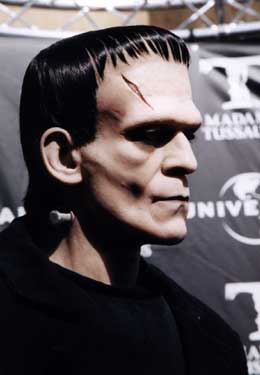 Karloff and Lugosi
return in their most
famous roles through
these incredibly
life-like figures.