David Colton
I have seen the future of horror fandom, and it is Monster Kid Magazine! A great effort, Kerry, especially the first-ever look at all seven Lon Chaney Wolf-Men -- vital, essential info for any Monster Kid in a world where Palm Pilots too often replace hairy palms and pentagrams. Just a wonderful start to what should become a permanent bookmark in the world of genre enthusiasms. From one Monster Kid to another, thanx for an even newer world of gods and monsters.


What can I say, David? Thanks for giving us Shock Theater era fans the nickname "Monster Kids" and for letting me borrow the term for my webby little mag. It's not VASARIA TODAY, but it's a start.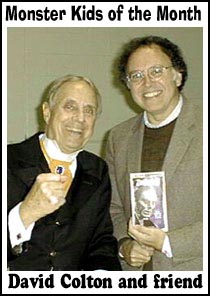 Rich Rogers
Zounds - what a wonderful website! Having cut my teeth at age 5 on the Shock Theater package, this is a special thrill for me. One of our local stations showed the old classic Universal monster films on a show they called Nightmare Theater hosted by Sammy Terry. This began about 1961. Since then I've been hooked! Your first "issue" is great! I really enjoyed the MONSTER'S BEST FRIEND story which included pictures I've never seen before. There also exists a great photo of a laughing Evelyn Ankers trimming the long talons of a howling Lon Chaney, Jr. in full Wolfman make-up and garb. So best of luck and I'll spread the word to my old monster buddy schoolmates.


There's nothing quite like a local horror host and a great old monster movie on a Saturday night, eh, Rich? Thanks for spreading the word to your old fiends.
Curt Hardaway
What can I say? You've captured our youth perfectly. I have to ask, though, what will happen when we're all gone? The Universal monster films of the '30s and '40s will always live (somewhat) through the images and icons of the commercial realm. But what of the true heart, blood, and soul of the films? I'm afraid that will die with us. Our children will never know the fear that we knew of having a slow, foot-dragging -- yet relentless -- mummy chase us through our dreams. They'll never know the value of carrying a silver-headed cane while walking in a fog-shrouded forest. Heck, they'll never even consider our black-and-white monsters as remote possibilities for inclusion among their top fright films. But I think Monster Kid Magazine will help them understand us and our childhood horrors. Keep it going...it's a calling you must answer. And if any of us can help, you know we're there for you.


Good to know, Curt. Even though it's an up(haunted)hill climb, let's hope some of the monster magic will carry over into the next generation.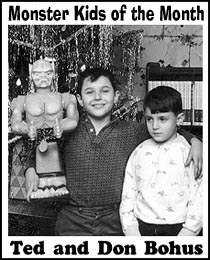 Raymond S. Castile
Wow, what a great site. Lots of fun for kids who grew up watching Creature Features and building Aurora models. But unlike other websites that concentrate on the films themselves or the actors or memorabelia, this one focuses on what it means to be a fan of these things; how our love of monsters shaped who we are. I hope the site grows like the Blob.


It's becoming more Blob-like all the time. Everyone should check the links page to visit Ramond's "Castile", The Gallery of Monster Toys.
John T. Soister
What a wonderful surprise! Monster Kid has captured the spirit and the flavor of all those grand monsterzines we used to pour over as kids, and that is no mean feat. (The only thing missing is an LoC column, and I guess/hope that's on the way.) As an early 60s fanzine editor, allow me to be expansive and offer to help anyway I might. Go Monster Kid!


I guess we have everything now, so keep the manic mail comin'. As for a contribution, John, I don't want to shed any Rains on your parade, but your last work was practially an Invisible One.





Justin Thompson
Excellent Count Gamula,Excellent! I am sorry to say that I was not an original monster kid, I was born twenty years to late. However, I do like to hear all about what it was like and still hope to acheive the title of MONSTER KID! The site is wonderful and I can't wait to see what's next!


You are hereby awarded your honorary Monster Kid-hood , Justin. Even if you were born a little later than some of us, it's never too late to discover the joys of monster-dom.
Monster Man Dan
Wow! Just came across your Ghoulishly Great Monster Kid Magazine site. You know I fit right in to being a Monster Kid. I'm '49' and still love sleeping in my cozy 'coffin of pine'. At age ten, I built and painted my first Aurora Frankenstein Kit and have been glued to The Classic Monster Craze of the 60's from then on. Your site brings back so many good old memories, but yet has that 'fresh' and 'new' look to it. Superbly designed! Will keep in touch.


Thanks, Dan. I hope you'll stay glued to Monster Kid, too. Be sure and keep your coffin sanded. Those splinters can keep you up at night.
Frank Dietz
Congratulations Gamula!
What Monster Kid could possibly resist a website devoted to...well...Monster Kids! It's great, and I'm not just saying that because you gave me a regular feature to display my little drawings. I'm really not. I would say that about anyone who'd give me a regular feature. Or anyone who would just be nice to me. Or anyone who would lend me money. And that reminds me, I need to ask you something privately. We'll talk.
In the meantime, have fun with the site. I know we will!


Thanks, Frank. You want to borrow money from me? That's funnier than your monster caricatures.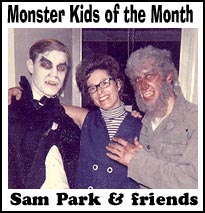 Donnie Waddell
Just checked out your Monster Kid Website. Not sure why it took me so long to visit but as they say "Some things are worth waiting for". Many thanks for providing Monster Kids everywhere a place to call their own. Your website provides the canvas on which my Childhood Memories paint a picture of happier times when being a Monster Kid was as good as it gets. Can't you just smell the paper from the FM Magazines or the plastic from a freshly opened Aurora Monster Model? Being a Monster Kid is certainly a state of mind but it's also a state of "Heart" and thanks for helping this old Monster Kid's heart beat a little stronger.


I hope you enjoy the second issue as much as the first one, Donny. And if it doesn't get your heart beating strong enough, take two Tana leaves and call me in the morning
Dave Showler
Great stuff. I'm 48 and have loved monsters since I was a kid thanks to Forry J. In the UK they didn't put "horror" on TV untill I was about 15, and then they showed most everything by date of relesse on Friday nights over about 2 years. I had been drooling over FM for years and at last there were "my" monsters on TV. I must be a true "monster kid". Not many in the UK.


Nice to hear from an MK from the UK. Glad Uncle Forry kept your monster habit fed until the movies crossed the lagoon and invaded the British airwaves. Fear-io, old chap.
Greg Krieger
GREAT SITE! Wonderfully reached to the monster kid inside me (been there since I was little). Love the pics of Lon and Moose...I recall seeing them before in the past (especially like Lon napping with Moose as a pillow!). Sad to hear how Moose went to Doggie Heaven! :-(


I love those pictures too. Moose could bring out the man behind the monster every time.
Gary Prange
They say it takes one to know one and you know the soul of a monster kid, Kerry. Monster Kid Magazine has heart... probably "acquired" by Fritz on your behalf, but heart nonetheless. You can't put something like MKM together without feeling something deep inside. And it's impossible to explore MKM without feeling the same thing. All I can say is: MORE!


It's good to know that the "heart" of Monster Kid shows. After all, it was a very fresh one.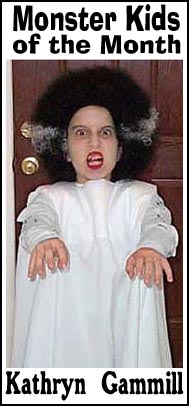 Bob Burns
Man! This site does this old Monster Kid's heart real good. It takes me back to the great old days. I now have a place to visit to keep the old thrills alive. It's as good as sitting in a darkened theater watching the WOLFMAN for the first time. I'll be back here often. I'm passing this site on to all the other old Monster Kids like me. What a fantastic site.


Thanks, Bob. Your youthful enthusiasm has earned you the title of Number One Monster Kid! And if anyone out there still hasn't gotten their copy of one of the coolest books on the planet, IT CAME FROM BOB'S BASEMENT, get to Bob's site and order it right away. http://mycottage.com/bobburns/
Fred Rappaport
Cheers on a spectacular maiden voyage. Outstanding articles and mouth- watering pictorials, topped by groaners worthy of the Ackermonster at his groan-worthiest. Who could axe for anything more?


High praise indeed... I think. But there's only one Dr. Ackula. Oh, wait a minute...
Mike
Yahoo! Clubs' It Came from the '50s
"Monster Kid" is a long overdue addition to the old www. First edition is fangtastic fun! Change of Face was very cool! Hope you'll have something similar in future issues. "Bela's Beards", what a great concept for an article! Loved it! Don't know what the Mystery Photo is from, though? ( Not "Mystery of the Mary Celeste". ) The mag is wonderfully designed, too! Not really a surprize, there. One of your other guests mentioned Sammy Terry. He was my Horror Host, as well! Wonder if old Sammy is still around? Gotta go put a plug in at the new 50s sci-fi club (which you'll see, up top, I got a plug in of my own. Hee Hee!)


According to our crack(ed) research team, Indianapolis host Sammy Terry (Bob Carter) is still around and now owns a music store. Thanks for the plug in the Yahoo! clubs. Sorry I don't have room to mention that the '50s club is located at:
http://clubs.yahoo.com/clubs/itcamefromthe50s
Anthony Bauman
Wow! I am now 51 and reading the "Monster Kids" took me back to when I was a kid and had the complete collection of both "Famous Monsters of Filmland" and "Spacemen" magazines.. which mysteriously disappeared along with bags full of Batman, Superman, Green Lantern and other comics during a move when I was 14... I think if my parents realized I could have now financed my retirement with those old mags they may not have gone missing. grin In Detroit we also had "Shock Theater" (I guess most big cities had something like it) and I can still feel a chill when I think of the shimmering skull and the words "Shut your windows...lock your doors...it's time for..SHOCK!"


I alerted the F.B.I. to the case of the missing magazines, but was shocked to find out that parents throwing out a kid's comics and monster mags is NOT a federal offense.
Anonymous
Just found your site. Starting reading "The Monster Kids" by David Colton. Wasn't expecting the emotion that overcame me. Is a 41 year old guy suppose to cry? Don't tell anybody, but I did. It got to me. The story released emotions that have been buried deep for 30 years. What can I say? Not many things get to me on the internet, but your site did. Am I the only one reacting this way? I guess what I am trying to say is - Thank you.


Thanks to David for his touching de-composition. I'm feeling a little choked up myself. What? Oh, Kharis. It's only you.
HEY, HORROR -HOLICS!
We want to hear from you! E-mail your comments, suggestions, pictures or monster memories to the address below.