The old man swayed back and forth on the bench before the wooden pipe organ, his arthritis-crippled fingers playing over the silent keys. Behind and above him, with a hiss of gas, flames suddenly erupted. Dirt fell loosely from the ceiling, the nearby slowly-turning water wheel caught fire and improbably halted. With thudding finality, a beam fell.
"Cut!" the director called. "Hurry up, you guys, right away." Even before he spoke, the special effects crew dashed up to the raised area of the dungeon set with fire extinguishers and quenched the flames on the floor. Those on the walls were turned off backstage
The old man, almost unnoticed in the busy hustle, made his way off the platform to the ever-present wheelchair. "Thanks, Boris," the director said. Boris Karloff had finished the final scene of House of Evil, one of the last two movies he would ever make. And still dizzy over being there, I stood in the background and watched.
I had first encountered Karloff in person about a year before he made those last four films, when I was invited to Milt Larsen's wonderful Magic Castle to attend a press reception for the actor, publicizing his record album, An Evening with Boris Karloff and His Friends. I was not introduced to him at that time but was one of several more-or-less anonymous faces firing questions at him in one of the little magicians' showrooms at the Castle. Many of the questions were familiar, and so were some of the answers. He seemed then to be a kind, thoughtful man, but also seemed to be very, very tired.
Then, in 1968, Boris Karloff returned to Los Angeles to make four films in five weeks in a co-production deal between Azteca Films of Mexico and Hollywood's Columbia Pictures. Fortunately, in a sense, I was out of a job, so when Forry Ackerman invited me to go to the sets with him, I had the time to do it. The first day, I met Luis Enrique Vergara, the Mexican producer of all four films; we hit it off very well, and he invited me to come back as often as I liked. I took him up on the offer, inviting fellow fan Jim Shapiro along one time, Jon Berg another. I didn't want to become a pest, so I actually stayed away on several days I could have gone.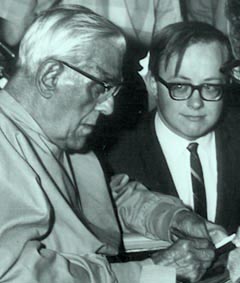 A Monster Kid's dream come true. Bill Warren (before he discovered Hawaiian shirts) with the Uncanny Karloff on the set of The Fear Chamber.
That first day, I looked around the cramped soundstage, trying to find Karloff. As unlikely as it seems, he was hard to spot initially, as he was seated in his wheelchair, obscured by set workers standing around him. No one was speaking to him, and he appeared to be quietly drowsing. He was costumed for the part of the scientist of The Fear Chamber.
When I finally worked up the courage to speak to him (after being introduced by Forry), Karloff was quite friendly, but seemed to have some trouble speaking. The weather was stifling hot and as he had only one half of one lung to breathe with, speech was not easy for him. He answered my few questions, some of which I am sure he had been asked many times before but he responded to all, graciously and honestly. He autographed some stills for me as well, but since I could see that even this minor exertion was an effort, and since I was intensely nervous and almost terminally shy, I took my leave.
I was on the set of Isle of the Snake People only briefly, though in a sense I am in the movie: I was creeping around the set behind the flats when the director called action. If the wall could be erased, you could see me, standing six feet from Karloff. (Robert Bloch later told me the same thing happened with him on the set of Psycho: if you could see through the fake walls of one of the sets, there you'd find Bob Bloch.)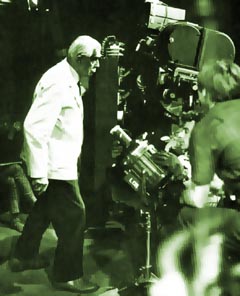 Arthritis and emphysema can't stop trooper Karloff from valiantly performing without the aid of a wheelchair when the cameras roll for House of Evil.