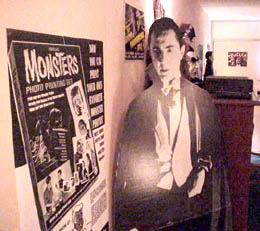 I bid you welcome to The Old Dark Clubhouse. But wipe your feet first.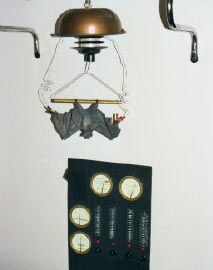 An old friend of Dr. Carruthers hanging around waiting for his shock treatment.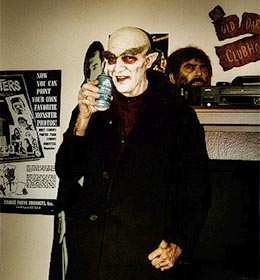 A cold brew instead of warm blood? What are vampires coming to these days?
. .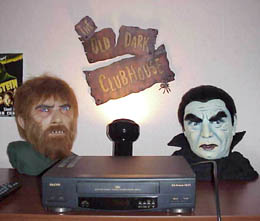 In keeping with the theme of this year's Bash, images of Bela Lugosi glared from every corner of the Clubhouse.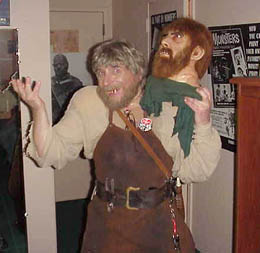 Slow down, Ygor. You're getting ahead of yourself.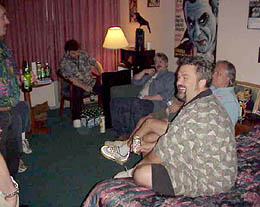 Donnie Waddell raids the old dark refrigerator as Monster Kids Gary Prange, Joe Schovitz and Dennis Druktenis talk monsters while Hans Salter and Frank Skinner provide the clubhouse's party music.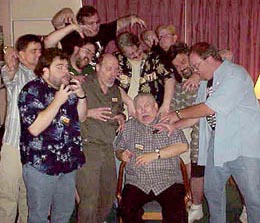 Bob Burns gets a warm welcome from the clubhouse gang.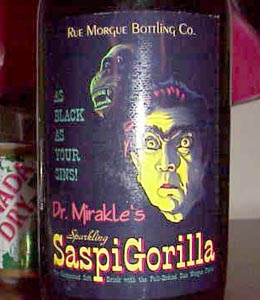 If you never drink... wine, try something softer that still carries the Lugosi seal of approval.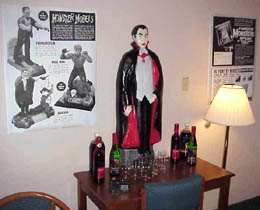 Help yourself to a glass of Bela's favorite wine from the vineyards of Fort Marmaresh.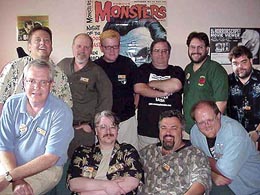 Some of the eerie inhabitants of the Old Dark Clubhouse. ODC presidents Gary Prange and Joe Schovitz (center) surrounded by (clockwise) Joe Busam, Frank Dietz, Kerry Gammill, Joe Busam, Jr., Tom Weaver, Tim Keegan, Donnie Waddell and Dave Conover.