Of course, he also talked about some of the experiences he'd had making those movies, and some of the stars he'd worked with. He did the sound version of The Unholy Three, playing Lon Chaney's pet gorilla, and said that Chaney was a very generous, kind man, but that was about it. But Laurel and Hardy he loved to death, he absolutely adored those guys and told me that they were two of the nicest, most friendly guys he'd ever met. I knew Stan Laurel real well, and that was exactly the same thing Stan used to tell me about Charlie Gemora, that he was the sweetest, greatest guy that he ever worked with. Charlie worked with them twice, in The Chimp [1932] and then in Swiss Miss [1938], where he played the gorilla on the suspension bridge. He loved working with Laurel and Hardy and he talked about those guys more than he did anybody else.
A behind-the-fur look at the aluminum frame and hinged jaw inside Gemora's gorilla heads.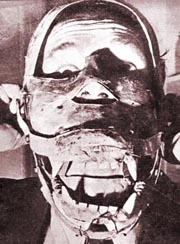 I don't know how physically strong Charlie was back when he was in his prime. When you're playing gorillas, it helps a lot if you are, but you don't have to be. You have to be in pretty good health, though, and obviously Charlie was because he did it a number of times in the '20s, '30s and '40s. It's hard work, I can certainly vouch for that. He didn't mention any injuries, even though I don't believe he was stunt-doubled very often in his gorilla roles. In Murders in the Rue Morgue, Charlie did tell me that strongman Joe Bonomo doubled him in the scenes where he's climbing up to the Paris rooftops. But the thing about Murders in the Rue Morgue that stuck in Charlie's craw a little was the fact that closeups of an actual chimp were inserted into the movie instead of the closeups they'd shot of Charlie in his gorilla suit. He didn't know they had done this until he saw the movie; when he did, he said he was in shock because all of a sudden the movie would jump from a shot of him in his gorilla suit to a shot of a quite different-looking chimp. He wasn't too pleased with that, and could never figure out why they did it. His gorilla face was perfectly mobile, it could do the expressions that were needed. And did. His favorite of all his films was also my favorite: The Monster and the Girl. He said he thought he "nailed" playing a gorilla there better than anywhere else, and so he just loved the film. He also liked the premise (a man's brain is transplanted into a gorilla) and the fact that, in his own words, "I probably got more gorilla time in that film than any other movie I ever did." Charlie found that film a very pleasant experience and thought it was great because he got to do a realistic gorilla for a change. And that was his best suit ever. Rick Baker, the makeup and special effects artist (Schlock, Greystoke, Gorillas in the Mist, Mighty Joe Young), always had a fascination for gorillas, and he even said when he was a kid, "Someday I hope to create the ultimate gorilla suit" -- that was his dream. Rick was someone else to whom I've talked about Charlie Gemora, and Rick too thinks that the suit in The Monster and the Girl was Charlie's best ever.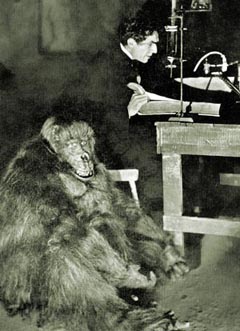 Bela Lugosi meets a Filipino gorilla in MURDERS IN THE RUE MORGUE (1932)