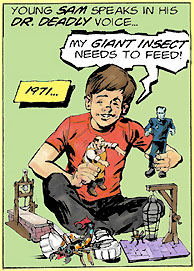 Moebius retro comics ad. Click image to see entire ad.
What are some special details and perks of these kits that you would especially like model-buyers to know? In other words, is there anything that isn't immediately apparent about them that you think is really worth telling modelers about?
Nothing out of the ordinary on the rereleases. We have improved them internally so fit is better, but externally they are the same. We're using the Canadian box art to give the fans an alternate look at the set. We are doing a store display in limited numbers, offering it to retailers with an assorted case of kits.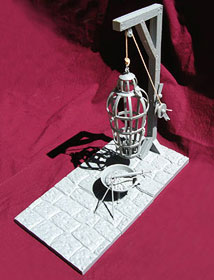 What has the pre-release response to the kits been like so far?
Response has been great so far. Seems like the fans are ready for it!
Have you considered re-releasing Aurora's Monsters of the Movies kits, as well? Somebody desperately needs to reissue their amazing swimming Creature from the Black Lagoon kit! (Hint, hint.)
At some point possibly. We have a license for the Creature from Universal, but it's not for a kit so small. I guess you never know what the future will bring!
If there's anything that I haven't asked you about so far that you would like to tell the public, let me know!
Thanks, Justin! Maybe just about the store display. It looks very cool, and will have a factory painted Deadly, Victim, and Insect on it.
© 2008 Justin Humphreys

---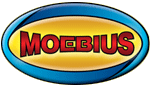 http://www.moebiusmodels.com
Special thanks to Juliane and Matt Munson for their assistance with this article.