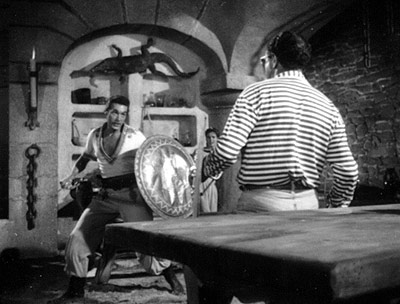 Stunt coordinator/ swordsman Enzo Musumeci-Greco stands in for the stop-motion skeleton as Kerwin Mathews rehearses the sword fight scene for THE 7TH VOYAGE OF SINBAD
The book also dispels some common myths that have grown up around certain aspects of Harryhausen films, such as the old story about using a hidden camera crew in a bakery truck in order to get all the shots needed for the destruction of the Golden Gate Bridge in IT CAME FROM BENEATH THE SEA. True, the San Francisco city fathers really did deny the request to film on the bridge because they didn't want anyone to lose faith in the structure, but the rest of the story – garnered from information supplied by film historian Tom Weaver – is... well, another story.
There were a few things missing from the painstakingly comprehensive text I was surprised about, though. Most noticeably was the absence of any box-office data from EARTH VS. THE FLYING SAUCERS. Such data is not generally my cup of tea, but I was curious about how much money it brought in compared to what it cost, as was done on the other films. And while numerous other effects problems were mentioned, one of Harryhausen's biggest gaffes was left out – that of the skeleton growing several feet in height as he chases Sinbad out the door in 7th VOYAGE, even though the sequence is given a full six pages just by itself.
My final petty gripe is that there are numerous photos and illustrations throughout the book that don't have any captions. Most of them are obviously self-explanatory, but there are still quite a few that deserved a line or two of clarification. But I'm sort of nutso about captions, a curse from my decades of editorial experiences.
While I may seem to be overly critical of some admittedly minor points, keep in mind that, other than a few typos here and there, these are the only flaws I could dig up. That's impressive.
So, besides the lengthy chapters for each film, what else does the book offer us? For starters, how about the concise footnotes at the end of every chapter that are often as detailed as the text itself. And we get an actual index! Thank the stars! I don't know about you, but I'm pretty sick and tired of books that don't have indexes. It's an absolutely crucial feature for any extensive reference book.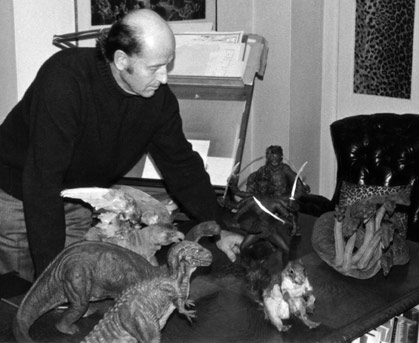 Harryhausen at home with creatures from his various movies.
And take a look at what's included in the almost 90 pages of appendixes: story synopses from every film; complete cast and credits to every film; filmographies of practically every person mentioned in the book; thorough discussions of every music score; a sampling of reviews for every film at the time of release (most of these will break your heart, make you extremely angry, or make you laugh out loud); a detailed timeline with information about Harryhausen's work in relation to the Academy Awards from 1949 to 1958; what each film was double-billed with when it came out; a lengthy section on Harryhausen collectibles with lots of photos; a technical glossary; and last but not least, a glamour gallery of every female lead in the films (some of these will surprise the hell out of you – I think Faith Domergue is the best, myself).
I knew when I first heard about this book project ten years ago that it would be something special, but even I had absolutely no idea that it would end up covering all-things-Harryhausen to such an overwhelming degree. Now that I see what Hankin, Farino, and the large list of contributors have accomplished, I can safely say these books will become the epitome in academic reference on Ray Harryhausen.

To paraphrase Plutarch – "When fans saw the breadth of MASTER OF THE MAJICKS, they wept, for there was no more Harryhausen information to conquer."
---
Editor's note -
Ray Harryhausen - Master of the Majicks, Volume 2 will be available directly from Archive Editions on September 14, 2008. To receive full information on this and upcoming volumes via secure e-mail, click here to sign up for the Archive Editions newsletter.