Cortlandt Hull has been doing his part to keep classic horror and fantasy film characters alive since 1966 when he opened his Bristol, Connecticut exhibit, The Witch's Dungeon Classic Movie Museum at age thirteen. In 2006, Hull and Dennis Vincent's Colorbox Studios released a wonderful two hour documentary on the history of the unique museum called THE WITCH'S DUNGEON: 40 YEARS OF CHILLS. It is available through the Witch's Dungeon website. Now Cortlandt and Dennis are at work on a new documentary called LEGENDS OF FILM & FANTASY. They have interviewed numerous actors, film makers, and artists for the project but one interview was extra special to them. The work of James Bama had a profound impact on a generation of monster fans by helping to define the look of classic monster products of the '60s. Cortlandt and Dennis share their experience of meeting the legendary artist with Monster Kid readers.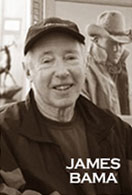 Our newest documentary, LEGENDS OF FILM & FANTASY, is an ambitious project which we began shooting two years ago, just after completing THE WITCH'S DUNGEON: 40 YEARS OF CHILLS. This new production concentrates on the art of film making, from Hollywood's past to the present, featuring exclusive tours of effects labs and costume and prop departments, told through the eyes of actors, effects people and artists that made the movies memorable and magical for all of us.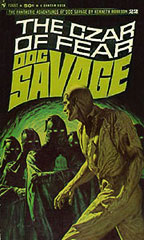 Our most recent filming took us to the wilds of Wyoming, the longest trek we have made for a single interview, but well worth it. We were greeted with a warm welcome by the somewhat elusive American realist artist James Bama and his wife, Lynne, who is an established photographer.
Mr. Bama's early career was in commercial illustration. His paintings appeared on the covers of many magazines such as The Saturday Evening Post, and on countless paperback book covers. Most sci-fi and fantasy fans first learned his name by seeing it attached to those incredibly dynamic cover illustrations on Bantam's wildly popular Doc Savage paperback series.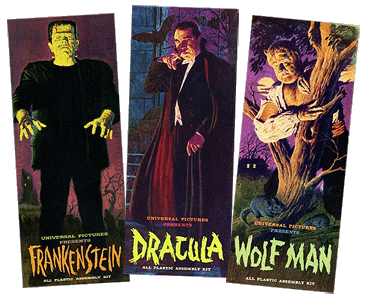 Even before they knew his name, many Monster fans of the early '60s were already fans of Bama's work because of a certain plastic model kit company. When Aurora Plastics Corporation launched a series of kits based on the Universal movie monsters, it was James Bama who provided the vivid color illustrations for the boxes.
After leaving illustration work over thirty years ago, James Bama turned his talents to fine art paintings and portraits, primarily of western subjects. His work is in the collections of Jack Nicholson, Clint Eastwood, Nicolas Cage and Malcolm Forbes as well as numerous galleries.

As we were setting up for the interview, Jim (as he prefers to be called) told us how he loved seeing the Universal horror films on the big screen while growing up in New York City in the 1930s. He recalls, "At about six or seven years old, I saw DRACULA, FRANKENSTEIN and THE MUMMY when they first came out. When we'd get home from the theater I'd have to sleep with my mother because the monsters seemed so real. Never did I think I would be painting them and that these pieces would be remembered for so many years."
Jim remembers that Aurora was originally apprehensive about doing monster model kits. "They brought the Frankenstein model to a trade show. The buyers were not overly enthusiastic but their kids were. So Aurora gave Frankenstein a try and it became their biggest seller." Soon Jim was painting one monster kit cover after the other, over twenty in all, including the Monster Hot Rods and the Monster Model Customizing kits. And each painting was done for the princely sum of $300!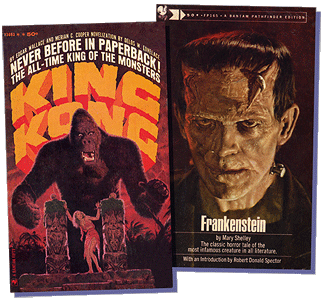 Jim explained, "When I was doing the early Aurora Monster cover art, I worked directly from photos of the actors in make-up, with my imagination filling in the backgrounds. But parents complained that the cover art did not match what the actual kits looked like and some kids were disappointed. So, starting with The Mummy and The Creature, Aurora sent me black & white photos of the prototypes to work from. Occasionally these photos were not that clear so I would often go back to movie photos for details." Bama adds, "Watching your Witch's Dungeon documentary segment on The Creature, I guess I painted him wrong. I based the Aurora cover colors on the Universal movie poster, by artist Reynold Brown, so I thought The Creature had those red lips!"
For us, personally, this interview was especially rewarding, as the main inspiration for creating The Witch's Dungeon came from Jim Bama's iconic, colorful covers, coupled with the Aurora model kits themselves. We traveled directly from Wonderfest in Louisville, KY to Wyoming so our van was still packed with our display and life size figures. Jim saw our Frankenstein Monster in the van, and asked if we could take it out, so he could have a photo taken with it. That was an honor, and a very special moment, which we greatly treasure. Without this artist's work, possibly our museum would not have been born in 1966.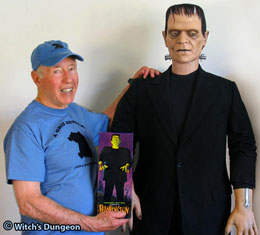 James Bama and an old friend
Jim was very generous with his time, giving us almost a two hour interview, not only covering more about his work for Aurora, but how his childhood interest in the art of Alex Raymond and Flash Gordon inspiring some of his Doc Savage cover art. By an odd coincidence, Bama's live model for Doc Savage, actor, Steve Holland, actually played Flash Gordon on TV.
We will include as much of Jim's interview as we possibly can, in the new documentary. Mike Rutherford of House of Dracula has been a huge help with images. Plus, Terry Ingram of the Universal Monster Army has offered to help us locate rare artwork of other merchandise from the 1960's influenced by Bama's Aurora art.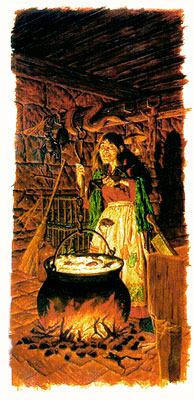 This segment promises to be very visual and would not have been possible without artist Roger Kastel, creator of the JAWS & THE EMPIRE STRIKES BACK posters, who insisted Jim take a look at our first documentary. Roger will also have a segment with us, on his impressive work. Since Bama prefers not to travel, and seldom does interviews, we're happy that, through this documentary, we can share this rare treat of meeting Bama with "Monster Kids" everywhere.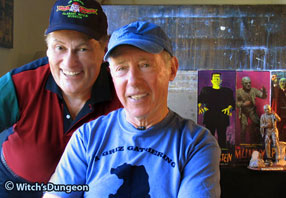 Cortlandt Hull and James Bama
Jim Bama joins the growing gallery of actors and effects artists interviewed in our new documentary. Some actors were originally fans of fantasy films, such as Mark Hamill, who said, "I came home late for supper, after watching Harryhausen's JASON AND THE ARGONAUTS for the second time, at the local theatre. When my folks asked me why, I said, 'Well… they were fighting skeletons!'" Actress Carla Laemmle, niece of Universal Studios founder Carl Laemmle, was on the set in 1925, with Lon Chaney Sr. during filming of the unmasking scene from THE PHANTOM OF THE OPERA. As Carla told us, "Lon did not want Mary Philbin to see his makeup in advance, when Mary ripped Lon's mask off and saw his skull-like face, she actually fainted, and they had to revive her!"
These are only a few of the memorable comments from our guests in the new LEGENDS OF FILM AND FANTASY. We are still in production, filming additional interviews. We hope everyone will find the finished product as informative, entertaining and fun, as it has been for us working on it!
Dennis Vincent and Cortlandt Hull, directors of
LEGENDS OF FILM & FANTASY

LEGENDS OF FILM & FANTASY, produced by Colorbox Studios and directed by Dennis Vincent and Cortlandt Hull, will be a 4 hour, 2 DVD documentary on the art of film-making. It will be released in Fall 2009

The list of interviewees include Bill Mumy, Leonard Maltin, Lori Nelson, Julie Adams, Kevin McCarthy, Don Sullivan, Felix Silla, Margaret O'Brien, Bob Burns, Zacherley, German Robles, June Foray, Daniel Roebuck, Paul Clemens, Kenny Miller, make-up artists Rick Baker, Dick Smith and John Goodwin, effects and production designers Patrick Tatopoulos and Chris Gillman, artists James Bama, Roger Kastel and Daniel Horne, plus many more to come.

For more information go to www.preservehollywood.org