Fahrenheit 451
Complete Bernard Herrmann Motion Picture Score
William Stromberg
conducting the Moscow Symphony Orchestra
Tribute Film Classics CD

Released simultaneously with the complete re-recording of Bernard Herrmann's score to MYSTERIOUS ISLAND (TFC-1001), Tribute Film Classics' re-recording of Herrmann's FAHRENHEIT 451 (TFC-1002) makes for a spectacular musical double feature. Producers Anna Bonn, John Morgan, and William Stromburg also included a new recording of Herrmann's score for "Walking Distance," a popular episode from Rod Serling's THE TWILIGHT ZONE television program.
After scoring several Ray Harryhausen and Alfred Hitchcock films, Bernard Herrmann may have found himself a victim of typecasting. From 1960 through 1976 only four of his twenty feature film scores were not for suspense movies or films of a fantastic nature. And though he would continue to land television assignments, after 1965 Hollywood appeared to have lost interest in his unique musical style. Later, of course, "the young guys," directors like Brian DePalma and Martin Scorcese who were at the beginning of their careers, wanted him and there was a resurgence of interest in his work.
Before that would happen, Herrmann spent a few years scoring foreign films. First in line was prestigious French director Francois Truffaut who wanted Herrmann for his film adaptation of Ray Bradbury's science fiction novel "Fahrenheit 451," a project that would result in Truffaut's only English language movie. It would also result in one of Herrmann's most impressive and beautiful, scores.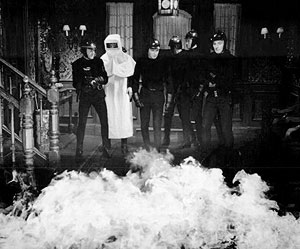 FAHRENHEIT 451 takes place in a future which has banned the printed word. Books are considered dangerous and in this society they ARE dangerous if you happen to own them. Firemen no longer put out fires, they rush to the site of the latest cache of books and burn them on the spot. Montag (Oskar Werner), a Fireman, becomes enamored of books despite the warnings of the Captain (Cyril Cusack) and his wife Linda (Julie Christie).
Truffaut's film is cold and emotionless, (a risk when dealing with emotionless futuristic societies) something that off put many viewers. Perhaps it was the language difference (he was not comfortable working in English), perhaps just his directorial vision, or it might have been some of his casting which included some actors -- Werner, Cusack, and Anton Differing -- who were not known for their on-screen warmth.
No soundtrack Lp was issued in conjunction with the film and fans had to wait until 1974 when Herrmann recorded a suite of his music for "The Fantasy Film World of Bernard Herrmann" Since then, excerpts from the score have been popular and appear on a number of different albums. In addition to the original soundtrack recording on Sound Stage (1998) and Tsunami (1995), the suite has been re-recorded by Joel McNeely for Varese Sarabande ("Fahrenheit 451," 1995) and by Esa-Pekka Salonen for Sony ("Bernard Herrmann--The Film Scores," 1996). Until this Tribute Film Classics recording there has been no recording of all the music, including cues dropped or truncated.
"Prelude" opens the album with a dreamlike piece that induces a sense of weightlessness or floating. The relaxing and gentle mood, strings in the upper register played against bass while a harp glides over it all, is deceptive for we are about to enter not just a dream but a nightmare. "Fire Station" follows as we begin a descent into madness. This harsh piece, with agitated strings and insistent xylophone, matches the urgency of the firemen as they set out on their mission. It will be heard again later in "Fire Alarm." The third piece, "The Lamp," fully sets up the film's premise as we see the black-suited firemen in action, the harp, glockenspiel and strings in a suspense motif as the men, in sinister black leather peasant hats, search the apartment for books, dump them unceremoniously out the window and burn them.
"The Boys," "Home," "The Bridge," "The Box," and "Montag's Books" keep up the suspense with disquieting themes that set up visions of dread. "Pink and Gold Pills," "Recovery," and "Vertigo," maintain the dreamlike state of unreality.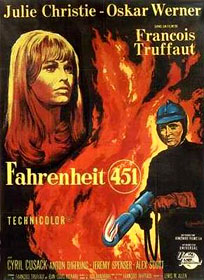 Four cues depict a sequence in which the firemen rush to the home of the Book Lady, search her home and systematically gather her books. In an act of martyrdom she chooses to die with her books, dropping the match that ignites them, the home and herself. "Fire Alarm" introduces a manic version of the firemen theme, "The Books" begins ethereally, a musical match for the not-quite-of-this-world Book Lady, "The Hose," reprising some material from "The Lamp," the first cue associated with the firemen's odious purpose, and "Flames," an emotional piece as the books burn, the harp appearing over inserts of individual titles being consumed
"TV Signals" plays over Linda's interactive TV program, the ominous quality of plucked strings, harp and glockenspiel a musically mad clockwork mechanism. "The Novel," although using ascending musical lines, begins suspensefully, as Montag musically begins to absorb Dickens' "David Coppefield." The music takes on hints of optimism, even nobility before ending with a sense of satiation. "The Garden" is somewhat upbeat with an air of serenity. This cue was dropped from the film and would have played in counterpoint to the on-screen Gestapo action as firemen search a park and its inhabitants for contraband books. "The Reading" is another cue that imparts serenity, peacefulness, satisfaction, and beauty tinged with melancholy.
Other cues of interest include "The Nightmare," a relentless piece during which Montage sees Clarisse as her friend the Book Lady, "The Captain's Death," a variation on "Fire Station" and "Fire Engine" without the insistent xylophone, and "Freedom," very much a chase piece with foreboding bass and agitated strings. TFC records the complete cue, restoring :50 seconds cut from the film.
Two favorites of most fans are "The Road" and "Finale," on some recordings combined as one piece. They are beautiful pieces associated with the Book People who live in the forest, where each individual memorizes a book. The tranquility of the piece, the harp representing the falling snow, holds some hope that someday books will be allowed again. Except that the coda, like a question mark, makes that future unsure.
The original Herrmann recordings sound harsher, more strident. This recording, under the controlled baton of William Stromberg, is nuanced and a bit sweeter. It should be noted that Herrmann's original "Prelude" is definitely conducted at a brisker tempo. Herrmann's original quotes the thematic material only once. Commonly, most recordings repeat the majority of the material. Also, "Finale," as played here, also reflects what has become the standard. However, this also departs from what is heard in the film by adding a third measure to the ending. Perhaps these reflect changes made in the score on the soundstage by Herrmann or later during the final sound mixing, but this should not be construed as a criticism since, in both cases, a) as mentioned, this has become the standard, and b) frankly, it is more musically satisfying.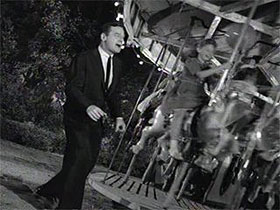 As if this full recording of FAHRENHEIT 451, complete, with restored music and missing cues weren't enough, TFC has included over fourteen minutes from Herrmann's score for THE TWILIGHT ZONE. "Walking Distance," starring Gig Young, is a much loved episode of the classic show featuring the actor as a man yearning nostalgically for his past. Be careful what you wish for in "The Twilight Zone"… Herrmann had no compunction in writing music for television in a day when the medium either got you on the way up or the way down. Possibly he hurt himself professionally in doing so but he wrote a great deal of library music for CBS which was tracked into various television programs. For THE TWILIGHT ZONE, he wrote original scores, such as this one. The original soundtrack for "Walking Distance" (1959) was released as part of Varese Sarabande's Lp collection of TZ music and later on their first "The Best of The Twilight Zone" (1985) CD. Here TFC has gone Herrmann one better by expanding the size of the orchestra to produce a rich, full sound.
Clever cover art depicts Herrmann's music score through raging fire, perhaps a nod to his score for HANGOVER SQUARE. Like TFC's MYSTERIOUS ISLAND, the sound is lush, instruments spread across the soundstage for a rich stereophonic effect. A 32 page booklet, illustrated with frame grabs, advertising materials, and a page from the score is quite handsome, full of information, and includes a word from Ray Bradbury. As with MYSTERIOUS ISLAND, collectors will want Herrmann's original tracks, his own re-recording and this new album. Yet, if it must come down to one, then this TFC edition is the one to have. It truly doesn't get much better than this.
Ryan Brennan