During the mid-1960s, I really hated The Beatles.
While all my friends were playing 'Sgt. Pepper's Lonely Hearts Club Band,' I shook my head in disgust and played Al Hirt's 'The Horn meets the Hornet,' a collection of redone TV themes by the great trumpeter. That was the very first LP I ever bought.
Being a very devout Monster Kid, I'd gingerly turn the pages of my Famous Monsters of Filmland collection every day. And just like every other Monster Kid, I'd dream of buying all those great things from the Captain Company, including 'Horrible Herman' (I really wanted to know what that thing was and still do to this day).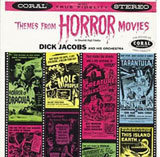 One of the holiest of Holy Grails was the Dick Jacobs Coral LP, 'Themes from Horror Movies.' Man, did I salivate over that. I finally got it a few years later and was crushed to hear the awful sound effects and narration ("They zig... they zag...on and on!"). Still, I listened to it religiously, particularly the HORROR OF DRACULA and THE INCREDIBLE SHRINKING MAN cues. I wouldn't find out until later just how off-center all those themes really were.
I also remember being devastated when Bernard Herrmann put out those London re-recordings of his science fiction and monster movies, 'The Fantasy Film World of Bernard Herrmann' and 'The Mysterious Film World of Bernard Herrmann.' Hardly anything sounded close enough to the music I loved in all those films. The real heartbreaker was his recording of a few tracks from MYSTERIOUS ISLAND, probably my favorite Ray Harryhausen movie (and Herrmann score) of all time. Particularly horrible was 'The Giant Bird,' a cue that was so slowed down I had to play it at 45 rpm to get the tempo right, which really made those piccolos shriek, let me tell you!
And that's how I learned about the incredibly iffy world of re-recordings. Although the original soundtrack to MYSTERIOUS ISLAND eventually surfaced on Cloud Nine Records, it was incomplete (most prominently missing were 'The Giant Bee' and lots of ethereal island cues) and with only so-so sound quality.
Enter Tribute Film Classics, the new label specializing in meticulous re-recordings that finally released the complete MYSTERIOUS ISLAND (with outtakes even) as their premiere CD last fall. It was more than I – and many, many others – could have ever hoped for.
But way before founding the company, two of the principals behind TFC already had a big hand in some of the best re-recorded monster music of all time, along with even more great non-genre film music. And, with a third partner, they've written a substantial number of original scores – most of those genre-related, too.
---
THE TERRIFICALLY TALENTED TRIO
Before we go any further, we should meet these key players: Anna Bonn, John W. Morgan, and William T. Stromberg.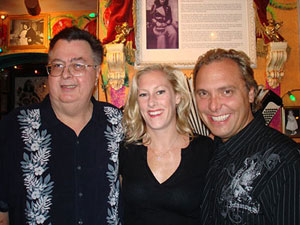 John Morgan, Anna Bonn and William T. Stromberg
With a bachelor's degree in Music Composition from the University of Southern California, Anna Bonn, 34, studied with film composers David Raksin, Christopher Young, Fred Karlin, John Parker, and Joe Harnell, among others. She went to work for Young as an assistant and orchestrator, where she orchestrated cues for MURDER AT 1600, HARD RAIN, and THE MAN WHO KNEW TOO LITTLE. Later, at Warner Bros., she was an integral part of the music team for ANIMANIACS, PINKY AND THE BRAIN and many Warner Bros. feature films. Most recently, working with Eric Stonerook Music, she has been a co-supervisor on the music preparation for the high-profile films FLAGS OF OUR FATHERS, LETTERS FROM IWO JIMA, SIDEWAYS, MILLION DOLLAR BABY, TEENAGE MUTANT NINJA TURTLES, and POSEIDON.
Her interest in film music began with THE EMPIRE STRIKES BACK. "I am a tad too young to answer 'STAR WARS' as I was still a little girl when it came out in theaters," she says. "A close second would be RAIDERS OF THE LOST ARK." And the first real monster scores to make an impression on her? "PLANET OF THE APES and CLASH OF THE TITANS... do they count? I know they weren't terribly scary films in the classic sense, but as a kid they both gave me nightmares."
Unlike her partners who were also into visual effects, Bonn had only one interest in movies. "Music was always my passion," she says. "I knew in my teenage years that I wanted to have a career in film music. I had always been fascinated by the diversity of film scoring, and found it refreshing that each score could be created from different musical genres and combinations of instruments."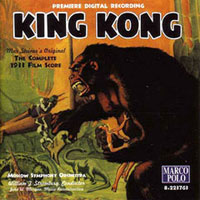 And the film composers that got her passion flowing? "I was most captivated by the music of Jerry Goldsmith and Bernard Herrmann, but I'd have to say that John Williams was the most influential as far as inspiring me to want to be in the film music world," she says. "I'm part of the generation that grew up with the big Spielberg and Lucas films such as STAR WARS, JAWS, and E.T. – all of which left a big impression on me as a kid."
Composer and film score reconstructionist John Morgan, 61, grew up listening to and loving classical music. "My parents had a lot of records and I was constantly listening to the local classical music station," he says. "I certainly was interested in film music, having seen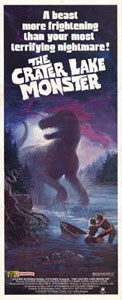 KING KONG on television and those great Universal horror films on Shock Theater in the late fifties. Like a normal kid, I really enjoyed the genre stuff, taking particular delight in the music. Like many others, I would tape record – on reel-to-reel – favorite films and scores directly off the television. This was before video and I remember how much trouble I got into when I was discovered putting alligator clips on the actual speaker inside the television!"
He adds, "Of course, it was Mahler, Richard Strauss, Beethoven, Rimsky...and countless other classical composers that were my constant companions." He began his career working alongside such composers as Alex North, Bruce Broughton, and Fred Steiner before embarking on his own. Some interesting orchestration jobs he had were for HAWAII FIVE-O, BUCK ROGERS IN THE 25TH CENTURY, and Dustin Hoffman's version of DEATH OF A SALESMAN, scored by North.
William T. (Bill) Stromberg, 43, had a really big Monster Kid background – his dad is William R. Stromberg, who produced and directed THE CRATER LAKE MONSTER (1977) with great effects by David Allen, along with Randy Cook, Phil Tippett, Jon Berg, and Jim Danforth (is that an amazing group of stop-motion guys, or what?). The elder Stromberg was a stop-motion animator himself, working with Art Clokey and Cascade (the company that gave us the Pillsbury Doughboy). And his brother, Robert, went on to become an Oscar-nominated, Emmy-winning visual effects artist himself.
"Since my dad was a special effects man doing stop-motion animation and miniature work on many films and TV programs, I was always interested in doing stop-motion animation ala Ray Harryhausen," Stromberg says. "But while I was in the garage making little animated movies with my brother, we always listened to film scores by Max Steiner, Herrmann, and Williams. My interest in music started to become more important, and I soon began to write original music to accompany our films. I would sit at the piano for hours just improvising, and then I taught myself how to write my music for different ensemble, mostly for members of our school band. I was in 7th grade when I began playing the French horn in the band, and I started studying classical music scores and film music. I actually recorded my very first scores for our animated films in the band room with a reel-to-reel tape recorder and two microphones."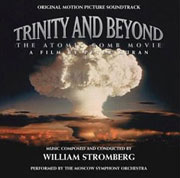 His father's influence is readily apparent. "Steiner's score to KING KONG had a real impact on me," Stromberg says. "My dad had a 16-millimeter print of the film and used to show it often. Steiner's barbaric, heart-pounding score really got into my blood. I would often run the film day after day in my room when I was a young teen just to hear the score over and over. It was the same thing with Herrmann's MYSTERIOUS ISLAND. These two scores more than any others made me want to become a musician and explore all film music. The first album of film music I ever bought, though, was Williams' score to JAWS. That was a huge influence on me as well. But Bernard Herrmann and Max Steiner were – and still are – my favorite composers."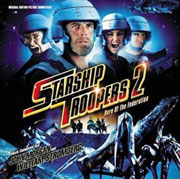 Mostly self-taught, Stromberg studied composition with Morgan ("I think this the beginning of a beautiful friendship") and later began conducting his own scores, as well as Morgan's, while also studying with famed conducting coach Bill Kettering, who taught composers/conductors David Newman, Thomas Newman, and Randy Newman, among others. In addition to composing original scores, he conducted for Rolfe Kent, including the scores for LEGALLY BLONDE, GUN SHY, ELECTION, and NURSE BETTY. He combined techno music with full orchestra on Robert Folk's score for LAWNMOWER MAN 2: BEYOND CYBERSPACE, and orchestrated and conducted for David Schwartz on the hit TV show NORTHERN EXPOSURE. He recently orchestrated and conducted the scores for the miniseries THE TRIANGLE and the film THE MESSENGERS, both composed by Joseph LoDuca.
Stromberg has also been heavily involved in performing classic Americana concert music by such composers as Ferde Grofé, Robert Russell Bennett, and Meredith Willson. If that isn't diverse enough for you, he also toured with the rock group Yes in 2001 for the 'Yes Symphonic Tour Across America,' composing the overture for the show and conducting the orchestra onstage with the band.

RE-RECORDING CHRONOLOGY
MARCO POLO/NAXOS
FILM MUSIC SERIES:
1994

HISTORICAL ROMANCES
[with The Charge of the Light Brigade, Gunga Din, Juarez overture]
Steiner, Newman, Korngold
CAPTAIN BLOOD
[Captain Blood, Scaramouche, The Three Musketeers]
Korngold, Young, Steiner
MONSTER MUSIC OF
FRANK SKINNER & HANS J. SALTER:
[Son of Frankenstein, The Invisible Man Returns, The Wolf Man]
Skinner, Salter
HOUSE OF FRANKENSTEIN
Salter, Dessau
1995

ANOTHER DAWN
[with Escape Me Never ballet]
Korngold
MAX STEINER
[The Lost Patrol, The Beast with
Five Fingers, Virginia City]
Steiner
1996
KING KONG
Max Steiner
GARDEN OF EVIL
[with Prince of Players suite]
Herrmann
THE ADVENTURES OF MARCO POLO
[with The Lodger, The Rains of
Ranchipur, Seven Cities of Gold]
Friedhofer
CLASSIC FILM MUSIC OF ALFRED NEWMAN
[All About Eve, Beau Geste,
The Hunchback of Notre Dame]
Newman
1997

MOBY DICK
Sainton
CLASSIC FILM MUSIC OF VICTOR YOUNG
[The Greatest Show on Earth, The
Uninvited, Gulliver's Travels, Bright Leaf]
Young
MR. SKEFFINGTON
Waxman
DEVOTION
Korngold
1998

THE EGYPTIAN
Herrmann, Newman
MURDER AND MAYHEM
[reissues from previous releases:
The Beast with Five Fingers,
The Lodger, The Uninvited]
Steiner, Friedhofer, Young
THEY DIED WITH THEIR BOOTS ON
Max Steiner
1999

OBJECTIVE, BURMA!
Franz Waxman
CLASSIC SCORES OF MYSTERY AND HORROR
[Ghost of Frankenstein, Son of Dracula,
Black Friday, Man Made Monster,
Sherlock Holmes and the Voice of Terror]
Skinner, Salter
ROY WEBB: MUSIC FOR THE
FILMS OF VAL LEWTON
[Cat People, Bedlam, The Seventh Victim, The Body Snatcher, I Walked with a Zombie]
Webb
THE TREASURE OF THE SIERRA MADRE
Max Steiner
2000

THE MALTESE FALCON AND OTHER
CLASSIC SCORES BY ADOLPH DEUTSCH
[The Maltese Falcon, George Washington Slept Here, The Mask of Dimitrios, High Sierra, Northern Pursuit]
Deutsch
THE SON OF KONG/
THE MOST DANGEROUS GAME
Steiner
DAVID COPPERFIELD/
THE ROOTS OF HEAVEN
Arnold
THE SNOWS OF KILIMANJARO/
5 FINGERS
Herrmann
2002

RED RIVER
Tiomkin
ALL THIS, AND HEAVEN TOO/
A STOLEN LIFE
Steiner
THE ADVENTURES OF ROBIN HOOD
Korngold
THE ADVENTURES OF MARK TWAIN
Steiner
2005

THE SEA HAWK / DECEPTION
Korngold
For BMG:
1996

FILM NOIR
[The Maltese Falcon, All
Through the Night, The Verdict,
Dark Passage, White Heat]
Deutsch, Hollander, Waxman, Steiner
THE ADVENTURES OF MARK TWAIN
[with The Prince and the Pauper]
Steiner, Korngold
TRIBUTE FILM CLASSICS:
2007

MYSTERIOUS ISLAND
Herrmann
FAHRENHEIT 451
[with The Twilight Zone:
Walking Distance]
Herrmann
Coming Soon:

SHE
Max Steiner
THE KENTUCKIAN/
WILLIAMSBURG: STORY OF A PATRIOT
Herrmann
THE CHARGE OF THE LIGHT BRIGADE
(2-disc set)
Steiner
ARSENIC AND OLD LACE/
THE HORN BLOWS AT MIDNIGHT
Stiener, Waxman
THE PRINCE AND THE PAUPER
Korngold
ABBOTT AND COSTELLO
MEET FRANKENSTEIN
Skinner
---
A HISTORY OF VIOLINS
"I have known him since he was three," Morgan says of Stromberg. "I knew his father." In fact, Morgan composed an original score for THE CRATER LAKE MONSTER that was never recorded due to budgetary restraints. Library music was used instead.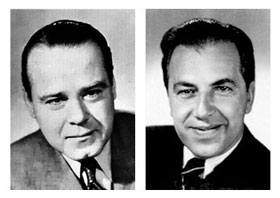 Premier Universal horror film composers of the 1940s, Frank Skinner and Hans J. Salter
Morgan began his association with the Marco Polo Film Music Series in 1993 on a proposed Hans Salter album.
"Writer Tony Thomas knew Salter, who was in his 90s and fairly forgotten," Morgan says. "Tony asked me if it would be possible for me to prepare some of his music for a recording. Somehow, Tony connected with Klaus Heymann, owner of Marco Polo, and convinced him to record an album of Salter film music while Hans was still alive. I met with Hans and we became friends. Unfortunately, Universal had thrown away all their full scores from this period, and so it was up to me to take Salter's conductor short scores, which is like a three-line piano reduction, and re-orchestrate the entire thing. I was green and really scared to some degree.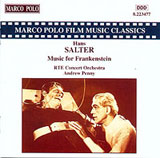 "When I orchestrated for Broughton or even North, I was the first and principal orchestrator, so what I did wasn't really compared to something else. I just did my thing. The pressure of redoing a score the way it was done originally took much more time because you were always comparing it to the original and trying to make sure all the nuances and little details were there. Most of these nuances were not in the conductor books, so I had to listen to the score with dialogue and sound effects over and over again, trying to make it as right as possible.
"I really thought of this Salter project as a one-time thing, as my real ambition was to compose my own scores," says Morgan. "Anyway, I picked GHOST OF FRANKENSTEIN and HOUSE OF FRANKENSTEIN to reconstruct and spent a few months trying to make everything correct. Neither Marco Polo nor I knew what orchestra or conductor would record this, but I sent my score overseas for copying. I also sent an audio cassette taken off the film tracks to help out whatever conductor may be doing this as far as style and tempo, and things like that. It was recorded in Ireland without my presence. I was somewhat disappointed because many of the tempos were impossibly slow and many copyist errors crept into the music, but there was no one in Ireland familiar enough with the music to make corrections. Despite all that, it was certainly exciting hearing the music – and Hans was so delighted that his music got a new recording in stereo."