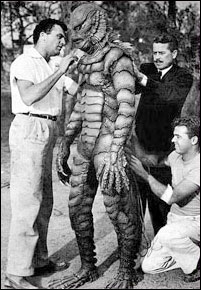 Classic horror film fans suffered another loss recently when Ben Chapman, who played the Gill Man in all the above-water scenes of the 1954 3-D classic CREATURE FROM THE BLACK LAGOON, died of congestive heart failure at the age of 79.
In an e-mail announcement to his friends and fans, Chapman's longtime companion, Merrilee Kazarian said:
"Ben's health, as you may know, has not been good for the last few years, but became increasingly and alarmingly worse just before Valentine's Day. Ben was transported to ER about 8:30 am on February 20 via ambulance. He lost consciousness and spoke for the last time at our apt. He left the world he loved at 15 minutes past midnight (HST) February 21, 2008. He took his last breath at the Tripler Army Medical Center in Honolulu about 12 hours after he was taken off life support."
As most fans of CREATURE FROM THE BLACK LAGOON know, Ben Chapman shared the role of the Creature with swimmer Ricou Browning.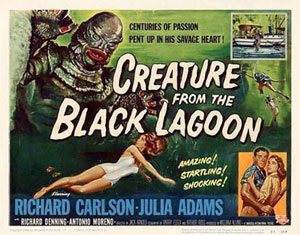 Browning performed all the underwater scenes with a second unit (including swimming doubles for the main cast) at Wakulla Springs in Florida while Chapman shot the above water scenes with stars Julia Adams, Richard Carlson and Richard Denning at Universal Studios in Hollywood.
Chapman and Browning didn't met until the Creaturefest at Wakulla Springs in 2003. After Ben's passing Browning told Tom Weaver, "We became friends immediately. Ben was a bubbling personality, very appreciative of all the fans that the Creature had. He was a fun person to be around, never seemed 'down.' Even when he was sick [at shows] – a coupla times, he didn't feel too good – he covered it up pretty well. A very enjoyable person."
Chapman served in the Marines in the Korean War and received a Silver Star, a Bronze Star and two Purple Hearts. His movie career was brief but his uncredited role as the Creature secured him a place in movie history and star status among monster movie fans.
Creature fans who were fortunate enough to meet him at conventions and autograph shows were always impressed with his warmth and friendliness and his upbeat personality. He seemed to be having as much fun as they were. His joyful and entertaining presence will be sorely missed at future monster fan gatherings.
Chapman's good friend, sci-fi film archivist Bob Burns,
expressed his feelings about Ben's passing with these words:
It's a dark and dull room, crowded, loud, and then, suddenly, the room lights up, people smile, laughter is heard. Of course! Ben Chapman just entered that room.
In a world where most celebrities capitalize on their fame for personal gain, there was one special star who was gracious to his fans, appreciated them, and devoted time to listening to them. When he signed an autograph, you not only got an 8-by, but a copy of his original contract for his role as the gill man in Creature from the Black Lagoon, a special "gill man dollar" and most importantly, a great, big smile. Every child also got a short lecture about staying in school, ending with Ben securing a promise that the child would do so. Ben had a presence as big as the islands of Hawaii, where he lived. He embraced his friendships and held them as tightly as gold, keeping in touch by E-mail and phone frequently.
Ben was a Korean war hero, proud of our country, proud of who he was. He looked at life for positive outcomes, for he believed that would always be true. He loved people, loved to make them laugh. He always had a joke and enjoyed being the recipient of one.
His passing has created many heavy hearts and one feels profound sorrow with his loss. He touched many lives, each in a very personal way. The room will be dark again, for it will be a long time before such sunshine reignites our lives. But if we can each take just a little bit of Ben Chapman's philosophy, hope and spirit into ourselves, we can light up the world.
Rest in peace my dear friend.
Bob Burns