by


Curt
Hardaway
---
THE PHILOSOPHIES AND REALITIES OF RE-RECORDINGS
Being quite immersed in film scores myself, I know that we're a difficult bunch to please. If something doesn't match the music we love in films, we cry like babies. But there are often reasons for re-recordings sounding different that either make practical sense, or fall into the realm of impossibility.
"In the past, on the scoring stage, conductors would speed up tempos and hold notes longer than the music on the paper would indicate because they were trying to catch the action on the screen," Bonn says. "Before the regular use of click tracks, conductors would conduct in real time along with the film running on screen in front of them. Of course, this is still the practice today, but with the use of music editors, composing software, and synth demos, by the time the composer gets to the session they have a more precise idea of how the music will fit the scene."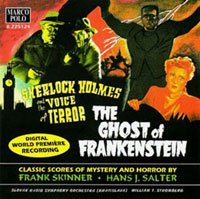 She also has a defense for those Herrmann re-recordings that broke my heart so many years ago. "When Herrmann would re-record his own music, he wasn't trying to match any action on screen so he would conduct the music in a way he felt was the most musical as it was heard independently from the film. I know a lot of his tempos were slower, but I figure since it was his music he could do what he wanted with it."
"Most film music fans are as nutty as opera music fans," Morgan says. "Yes, we try to replicate what the composer wrote. Many times, we are able to restore and do things that were cut in the original films, as well as restore certain instrumentation that may have been changed because of a conflict with dialogue or sound effects.
"Film Music can have two criteria. Since its function is primarily to enhance a film, the most important aspect is how the music works within the framework of the film. In this function it becomes part of film art. Much film music that is considered a great film score may not be great music in the sense of standing alone as music. It can be repetitive, meandering, formless and sometimes even played badly on purpose for a dramatic effect, but nevertheless a great film score with the film. Now, when we re-record a score for an album, our primary concern is not at all how the music works with the film, but how does it work away from the film – as music. Of course, Bill, Anna, and I are all flattered when we get comments from film buffs who say we captured the sound and feel of the original performance, but I get an even bigger thrill when I read a review from someone who hasn't seen the film, but finds the music compelling and interesting and fun on its own."
Bonn adds that "with our recordings, we try to duplicate the original as closely as possible. We know that fans expect to hear their favorite scores as they remember them from the film. We do our best to get as close to the original sound through the micing and mixing. We also get our research materials directly from studios, libraries, and private collections. Whenever it is possible, Bill will conduct from copies of the original scores and orchestra members will read from the original parts."
MORGAN ON MODERN MOVIES...
"Doing these classic film music reconstructions is my way of getting away from all this temp track crap. I don't think half the editors in Hollywood can edit now without a piece of music to guide them on where to do cuts. When you come in to compose the final music, you have to match up what another composer did.
"The films today are so expensive that every film has to sort of make it on its own. In the old days, you could have a few artistic films with the studio's bigger hits supporting them. Now every film has to stand its own, and you've got committees of people that do these research things to decide what the film needs.

"They're always saying, 'This is what we want, but we don't want it to sound like John Williams.' Or, 'Come as close to Williams as you can without getting sued.' Those seem to be the two choices. It's not necessarily good for the film; they just expect that. Everything goes in cycles, though.
"Older movies were written for everybody, adults and everyone. Now the biggest audience is about ages 16 to 23, where you have to have fast cuts. I don't know whether a kid could sit through THE ADVENTURES OF ROBIN HOOD today."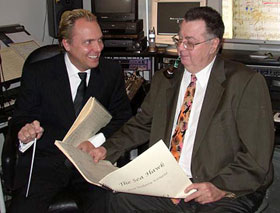 Stromberg and Morgan preparing to re-record Korngold's classic score for THE SEA HAWK
"Obviously, there is no way to replicate the original performance of any original score exactly, and it would be ridiculous and completely boring to try," Stromberg adds. "I do, however, try to recapture the spirit and vibrancy of the originals. Tempo seems to be the biggest problem for people who complain about this re-recording or that not being right on or as good as the definitive original conducted by the composer himself. I believe there is no such thing as a definitive performance of any music, and that includes the original composer's rendering as well. I've heard of many film composers who are not happy with their original soundtrack recordings because of being too rushed or whatever, and actually prefer a re-recording of their work.
"If the music is great, then it can be performed over and over, and you'll constantly discover new intricacies from recording to recording," he says. "I don't understand why some people want it exactly the same as the original. I've even had fans tell me that they miss a wrong note that was present in the original that we have corrected for our new recording, and wish we had left the wrong note in. I do, however, realize that most film music fans want to re-live their favorite film scores, blemishes and all, so I keep that in mind when we are recording a score anew. I find ways to make it fresh, but keep the composer's original intentions intact."
Bonn says, "I don't know if monster music fans are harder to please than other fans, but I do know that there are many collectors out there that know their favorite music note for note, and if we stray from the original even in the slightest way, someone is bound to call us on it!"
Which brings us to the possibility of impossibility. For example, one ardent fan says that in the Stromberg/Morgan HOUSE OF FRANKENSTEIN release, there is an anomaly on track 23 at the 1:20 point. In the DVD, it's almost at the 45:00 mark, just after the romantic scene between Lon Chaney Jr.'s Larry Talbot and Ilonka the Gypsy girl. It starts during Boris Karloff's line "Get started. We've lost too much time already." In the movie, it's a sort of whirring sound.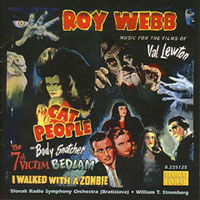 Morgan responds, "In the original film, it was a Novachord, an organ-like instrument that is obsolete today, so we had to replicate that sound with a synth. Novachords, Hammond Organs, the mono acoustics of the original recording venues, the underbuilt string sections – these are but a few of the difficulties in recreating the music. It is impossible to duplicate any orchestral music exactly just as it is impossible to duplicate a stage play with different actors exactly. Nor, I hope, would one want to."
"The theremin is a great example of a nearly impossible instrument to duplicate," Bonn adds. "Lately, we've been interested in recording film music from the 1960s and 1970s, particularly the scores of Jerry Goldsmith. He was a technological pioneer who incorporated synthesizers into the traditional orchestra. Many of his sounds were created by programming analog synthesizers. Those early synths are rare and almost impossible to find now. Although there are many digital synthesizers that can emulate many of those original sounds, it would be very difficult to recreate them exactly.
"Goldsmith was also known for using extremely rare percussion instruments played by Los Angeles studio musician Emil Richards. Some of those instruments were one of a kind from Emil's private collection. Unfortunately for us, the Moscow Symphony Orchestra we use doesn't have a waterphone, tuned mixing bowls, or dipping gongs on hand."
---
ORIGINAL MUSIC

In addition to their stellar re-recordings and orchestrations, the Tribute Film Classics trio have substantial composer credits (often as co-composers with each other) for feature films, documentaries, television, and shorts.


ANNA BONN

ANIMANIACS (1998)

PINKY AND THE BRAIN (1998)

JOHN W. MORGAN

Ray Bradbury's A SOUND OF THUNDER (1980)
(short directed by William R. Stromberg)

THE MAGIC TREASURE (1981)
(directed by David Allen)

THE AFTERMATH (1982)

THE TRIALS OF MRS. SURRATT (1984)
(Nicholas Meyer radio presentation)

FLICKS (1987, filmed in 1981)

EMPIRE OF THE DARK (1990)

TINY TOON ADVENTURES (1991)

DEMON IN A BOTTLE (1996)
(directed by Randall W. Cook)

WILLIAM T. STROMBERG

STATE OF FEAR (1988)

ORDER OF THE EAGLE (1989)

TINY TOON ADVENTURES (1990 - 1992)

BATMAN: THE ANIMATED SERIES (1992 - 1995)

THE MINOTAUR (1994)

RAW JUSTICE (1994)
(co-composed with Lennie Moore)

NUCLEAR RESCUE 911: BROKEN
ARROWS AND INCIDENTS (2001)
( narrated by Adam West)

LOST (2002)

BUGS (2003)

TV VIRUS (2007)

BONN & STROMBERG

OTHER VOICES (2000)

THE INNER CIRCLE (2003)

DISMEMBERED (2003)

ARMY OF THE DEAD (2008)

MORGAN & STROMBERG

DEADLY DANCER (1990)

FUTURE ZONE (1990)

EDGE OF HONOR (1991)

KILLING STREETS (1991)

SILENT VICTIM (1993)
(directed by Menahem Golan)

MUTANT SPECIES (1995)

TRINITY AND BEYOND:
THE ATOMIC BOMB MOVIE (1995)
( narrated by William Shatner)

NUKES IN SPACE (1999)
(narrated by William Shatner)

ATOMIC JOURNEYS:
WELCOME TO GROUND ZERO (1999)
(narrated by William Shatner)

CINERAMA ADVENTURE (2002)

STARSHIP TROOPERS 2 (2004)

RAY HARRYHAUSEN:
THE EARLY YEARS (2005)
(with Miho Nomura)

SHADOWS IN THE DARK:
THE VAL LEWTON LEGACY (2005)

BONN, MORGAN & STROMBERG

THE VISAGE (2003)

SASQUATCH HUNTERS (2005)

MUSICAL MONSTER KID HEAVEN

With the Stromberg/Morgan horror scores from Marco Polo/Naxos and the equally wonderful re-recordings put out by Monstrous Movie Music, these are amazing times for Monster Kid music. In addition to MYSTERIOUS ISLAND (nominated for a Rondo Award for Best CD of 2007, by the way – vote here: RondoAward.com), Tribute Film Classics has also given us Bernard Herrmann's FAHRENHEIT 451 coupled with his TWILIGHT ZONE episode 'Walking Distance.' It is also a stunning recording.

"I'd say that FAHRENHEIT 451 has surprised me the most," Bonn says. "It was a score I have always loved, and personally longed to record. Before we went into the studio, I was concerned about getting that specific sound of muted strings in Herrmann's original film recording. I believe we were able to capture the intensity and quality that Herrmann intended. The more I listen to the CD, the more I fall in love with Herrmann's score."

"I like quite a lot of our recordings, but my favorite two are MYSTERIOUS ISLAND and FAHRENHEIT 451," Stromberg says. "I feel that I have grown as a conductor and have become much more confident, which translates to a much more vibrant and gutsy performance from the orchestra. Also, I feel we finally have the recording technique down now. I think our recordings of Herrmann's music are nearly as tenacious and fiery as his own originals, and I don't usually feel that way about our re-recordings."




Morgan, Stromberg and Bonn with the Moscow Symphony Orchestra string section.

Morgan adds, "With our new Tribute label, I think Bill, Anna and I have set a new standard in our work. This covers the booklets, the recordings, just everything. I am very proud of our first two recordings. I also have very fond memories of our first Moscow sessions way back in 1994 when Bill conducted HOUSE OF FRANKENSTEIN, SON OF FRANKENSTEIN and THE WOLF MAN. I love those films and music and it was really exciting hearing that music come to life after the disappointing Ireland rendition. Also, I'm very pleased with KING KONG [the orchestrations of which were used by James Newton Howard during the theater scenes in Peter Jackson's remake], his SON, THE MOST DANGEROUS GAME, THE ADVENTURES OF ROBIN HOOD, THE SEA HAWK, THE TREASURE OF THE SIERRA MADRE, 5 FINGERS, and many more. I guess what we have recorded are, in many ways, our desert island favorites."

With uniformly superlative reviews for both of the Herrmann releases, Tribute has already recorded the scores for Max Steiner's SHE, and Bernard Herrmann's THE KENTUCKIAN and WILLIAMSBURG: THE STORY OF A PATRIOT for upcoming releases. And that's a lock-in because all Tribute recordings are produced and distributed by Craig Spaulding's Screen Archives Entertainment, which also carries most of the Marco Polo/Naxos releases in its inventory. SAE produces the discs and elaborate booklets with the same loving care it gives its own releases, the latest of which is Dimitri Tiomkin's original soundtrack for HIGH NOON.

The musical score for ABBOTT AND COSTELLO MEET FRANKENSTEIN is finally coming to CD! Universal Horror fans have been waiting and hoping for it for years. With Morgan, Stromberg and Bonn at the helm, it's sure to be worth the wait!

Of most interest to genre fans, though, will be Tribute's planned release of ABBOTT AND COSTELLO MEET FRANKENSTEIN by Frank Skinner. Talk about a Monster Kid Holy Grail...

"We hope to record the score later this year which will mean a 2009 release," Bonn says. "The entire score needs to be reconstructed from the existing condensed conductor scores. From there we have to re-orchestrate the music and copy out all the individual parts for the orchestra players to read. We've got our work cut out for us. In late February, as soon as we get back from Moscow – where we are recording Steiner's complete scores for THE CHARGE OF THE LIGHT BRIGADE and ARSENIC AND OLD LACE, and Korngold's score for THE PRINCE AND THE PAUPER – we will start digging into A & C MEET FRANKENSTEIN."

That's certainly music to our Monster Kid ears.

(And just in case you think I'm some sort of goofy film score nutball, I did finally learn to love The Beatles.)

---

You can purchase CDs mentioned in this article from Screen Archives Entertainment

For MARCO POLO/NAXOS CDs click HERE
For TRIBUTE FILM CLASSICSCDs click HERE

TRIBUTE FILM CLASSICS MySpace page

---




Editor's Bonus

As much as I love Stromberg's and Morgan's rendition of Max Steiner's score for THE SON OF KONG on the Marco Polo/ Naxos CD, for me the music is not complete without the sad but sweet little song, "The Runaway Blues" which was sung in the film by Helen Mack. The melody became an integral part of the film's score and was woven into the music throughout the movie.

Here as a public service is the official Monster Kid SON OF KONG CD Repair Kit! Just import your CD to iTunes or your iPod, then download this mp3 file of the missing song and insert it between tracks 3 and 4 in your playlist. Now your SON OF KONG listening experience will be complete.

– Count Gamula