I'd like to ask you about art. Is art important?
Oh, I think music and art are the ways God wants us to express ourselves on this plane. You wouldn't have the paintings if you couldn't be on this level, and the music of course. All the arts are expressing this level that we're on.
What defines an artist?
I think to be an artist it means a certain sensitivity, because I believe in evolution. I believe the more sensitive you are the more you draw from this One Mind; which is part of the whole, part of everything. I think we all have that ability to be tuned in, but I think great artists are just more tuned in. One who's expressing God to the fullest, that's an artist.
I'd like to ask you about the artist Robert Aragon.
I think he, right now, is an amazing artist. And, if I were his age I would be in love with him. In fact I'm in love with him now, but it doesn't do me any good. (Laughs)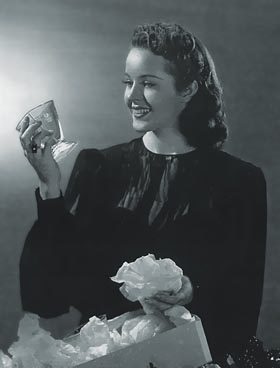 When not busy acting in movies, the studio sometimes sent its starlets out on modeling assignments. Here pretty Peggy helps sell glassware.
What do you think of the sketch he created for you?
I think it's wonderful! Anybody who looks at it says how amazing it is and he got me so. They say, "You look just like you." Everybody says it's so unreal. Everybody wants one. I've given away most of them, and some people are copying it.
Peggy do you have any last thoughts for the readers?
It's your attitude that counts. Your attitude and your consciousness, that's very important.
A big Monster Kid Thanks to Peggy Moran for spending a little time with us. Special thanks to Robert Aragon and Dominic Florentino for making this interview possible.