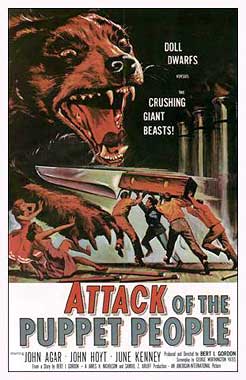 Not too long after I Was a Teenage Werewolf, Kenny made his famous film for "Mr. B.I.G." himself, Bert I. Gordon. Gordon specialized in doing big monsters on a small budget and had produced and directed a string of '50s sci-fi hits like The Beginning of the End, The Cyclops, The Amazing Colossal Man and Earth vs the Spider. For a new twist he planned a reversal of the giant theme with Attack of the Puppet People. "My agent said Bert I. Gordon wanted to see me and I went to see him," Kenny told Monster Kid. "I read and got the part. Marlene Willis, who played Laurie in Attack of the Puppet People and co-starred in Rockabilly Baby, was under contract at Twentieth. She had gone on her interview and told them about me."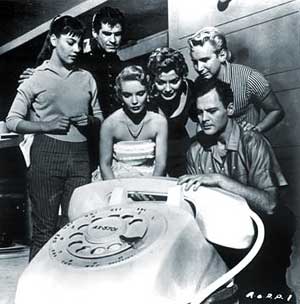 John Agar considers making a call, but worries about the size of the phone bill for a telephone this big.
Kenny described Gordon as a perfectionist and even though the film was low-budget, Kenny was excited about working on one of his movies. His fun brand of special effects films were very popular at the time and his cut rate effects were usually very ambitious, making the most of every dollar available. The star of the film was John Agar, icon of 1950's genre films who also helps to make the film memorable. In speaking with Kenny, before, during and after this interview, it was easy to see what his thoughts are concerning Agar. "I had met him a couple of times socially, but I had never worked with him," Kenny explained. "Talk about a gentle man. That man was the dearest. He was thrown into a business that I don't think he ever wanted to be in, but he sure the heck made the best of it! I don't know of anyone who was more loved, and more respected than John Agar. He did some very big, good films with John Ford and John Wayne and then he got into horror and science fiction. It seemed to be the right click for him. He was just such a joy to work with and so much fun. But yet he did his homework and was ready and we had rough things to do in the movie."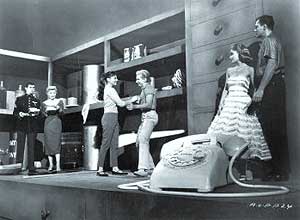 Here Kenny proves the old saying that there are no small parts, only small actors.
While Kenny had to worry about dancing without music in I Was a Teenage Werewolf, that was nothing compared to having to work without a net for Gordon. "We had to climb ropes a lot," Kenny told me concerning Attack of the Puppet People's heavy physical stunts. As it turns out, the work done on this film wasn't just strenuous, for Kenny it almost became downright hazardous! "There was one scene where I specifically had to climb up to a door knob that was thirty feet high and the rope I used was large rubber rope and it would give every time, and I had to climb all the way up there. In that movie, for some reason, I had on the tightest pants known to man. I don't know why the wardrobe people put me in those. I'm climbing up with my feet on the door and I get almost three quarters of the way up and I yell to Bert. He and the crew were on the second sound stage to get the effect, and there was no sound so I yell, 'Bert, my pants are splitting!' He said, 'Keep climbing, you look great!' I said, 'My pants are coming apart!' And he said, 'Keep going, Kenny! It looks great! Get to the top, it's all right! Do you have on any shorts?' Fortunately I was at an angle and they were far enough way you couldn't see it. I got up the rope and put my arms around this huge door knob."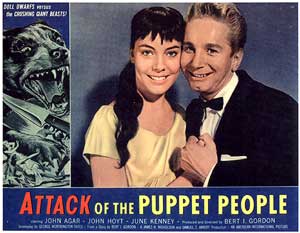 A couple of living dolls. Marlene Willis and Kenny Miller.
For a while there, all Kenny had to worry about was keeping his dignity in tact. Once he reached the door knob though, he had something else to worry about keeping together: himself. "I'm holding on to the door knob, and I'm thirty feet high and the door knob starts coming off. And I said, 'The damn door knob is going!' And Gordon replied 'Don't turn around! Look through the keyhole!' And I said, 'But I'm going to fall and my pants are ripping more!' Gordon yelled, 'Keep it up! That's all right, that's all right! We'll catch you!'" After Gordon got his shot, Kenny was told he could start coming down and it was not a moment too soon. "I got about a quarter of the way down and the door knob came off. Fortunately the grips had gotten a couple of blankets and caught me, otherwise I would have broken my back."
It wasn't just Kenny who found doing the climbing a pain in the neck. As he told Monster Kid, it wasn't the best part of the job for Agar either. "John was such a trooper. He had to climb down off of a desk on a telephone wire and then climb back up. We (meaning Kenny, Agar and actor Scott Peters) all had to climb up to the desk. The next morning, I couldn't move and for John they had to bring in a physical therapist to work on his back. He was in such pain, he could hardly move. But he was such a trooper, he said, "It's okay, I can do it, I'll work," and he kept on working."
In Attack of the Puppet People, Kenny didn't have to worry about singing this time around. Instead, Marlene Willis was given the song to sing in this film, "You're My Living Doll." "They were going to have Marlene and I both sing, but then they decided that would probably be a little too much,"Kenny says as he starts to talk about the film's appropriately named tune. "But since Marlene had it in her contract that she was going to sing, they got this song."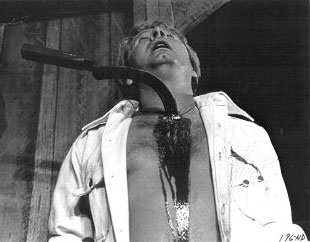 Kenny in the 1978 film Blood Stalkers. Either there has been foul play or this is the worst case of sickle cell disease on record.
But just because Kenny didn't sing on this film, it didn't mean filming the scene where Marlene sings was easy for him. "At one point, for no reason at all, Marlene sings this song and it was hardest thing for me in the world to be in front of a camera and to react to it. I said, 'How am I supposed to react?' When a girl is standing, looking at you, singing a song called 'You're My Living Doll,' how can you react? I mean, I was so embarrassed because I do not consider myself a living doll in any manner or sense. Bert Gordon said, 'Just have fun.' So I look like an idiot standing there as Marlene sings. And we dance of course, I had to dance, like in so many films I was in. The dancing Kenny Miller. But that was embarrassing. They did cut part of it, they didn't use all the song in the film, fortunately."
Despite the serenade that Marlene did for Kenny, the rest of the shoot on Attack of the Puppet People proved to be a fun time for Kenny. Truth be told, one gets the impression that Kenny would have a hard time not having a good time anywhere he went.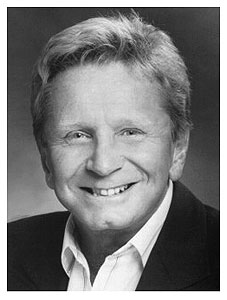 Because on the shoot, Kenny became friends with John Agar and the two stayed in touch with one another up until Agar's death just last year. Recently, Kenny was able to reunite with another cast member from Attack of the Puppet People at a recent Chiller Theatre show. Kenny explained that he was told at the show that someone wanted to see him and surprise him and perhaps sit next to his table for a while. "In walked this darling little girl and it was Susan Gordon, Bert Gordon's daughter, who played the little girl, in the film," Kenny revealed. "She's done some other stuff, and she lives in New York, and she's done some television and so on. That was really exciting and she is so darling. She looks just like she did back then only a grown-up version."
Kenny is now a frequent guest at movie conventions and autograph shows signing photos for fans and promoting his autobiography. If you are lucky enough to meet Kenny Miller in person at one of his many appearances, I am sure that you'll find him to be a pleasure to talk with. Without a doubt he was one of the nicest, most delightful men I have ever had the pleasure of interviewing.