by Dan Johnson
Horror fans who don't recognize Kenny Miller by name will surely remember his appearance in two of AIP's teenage drive-in classics. He played Vic, the life of the party in I Was a Teenage Werewolf and Stan, one of the shrunken victims of a demented doll maker in Attack of the Puppet People. Kenny appeared in rock 'n roll dance numbers in both films helping to cement his timeless teenage image in the minds of fans of '50s sci-fi films. Although he appeared in many types of movies, he is best remembered among Monster Kids, for these now-classic horror/sci-fi films which win more fans with each new generation that discovers them on TV or home video. Recently I had the good fortune to sit down with Kenny and discuss these two films.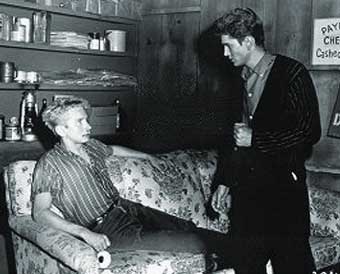 After a practical joke, Kenny finds out the hard way that angry young werewolves have no sense of humor.
I Was a Teenage Werewolf is perhaps the movie that Kenny is most famous for. The film was made at a time when Miller found himself being cast in many of the teen themed movies that Hollywood was making. "The teenaged movies had started catching on and fan magazines had latched onto me and had made me much more than what I was, which was fine," Kenny explained.
"Producers and independent [film companies] love that because they figure if you're in the fan magazines, people will come and see your movies. I had a wonderful agent, William Schuller, and I went over one day with one of the sub agents, Polly, to meet Herman Cohen. No one had been cast yet and there had been maybe a couple of things in the trade papers. Everyone laughed hysterically at the name, I Was a Teenage Werewolf. No one thought they would really make this film. I read for Cohen and then he explained that they didn't know when they were going to start, that they didn't have a big enough budget yet. They did get the money to make the film and I was called in." When the film got under way, it starred Michael Landon in what would be his breakthrough role. It was not only a big break for Landon, but also for the film as Kenny indicated. "It was sort of a magical thing because when they found Michael Landon, he had done no films at all and he had done a couple of little things on television. He was just a wonderful, wonderful guy and so dedicated. I'm not sure that he was thrilled about this being his first film, but he was thrilled to be working. He took that role so seriously and it shows. In that two week budgeted film, he did a wonderful job. He really is a believable guy in what could have been a really ridiculous part, if you think about it."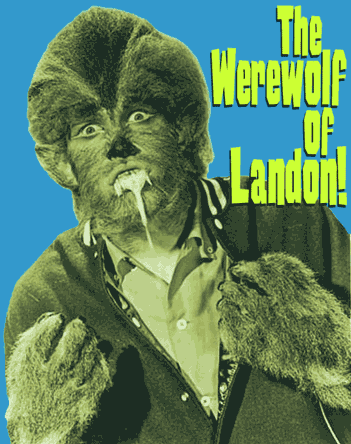 Before Bonanza, Little House on the Prairie and Highway to Heaven, Michael Landon drooled his way to stardom as the Teenage Werewolf.
Without a doubt, Michael Landon had the hardiest part in the film, especially given he was the star of the film, but also because of the make-up he wore as the title character. "Michael was so dedicated," Kenny continued. "It was real make-up he was wearing, it wasn't a mask. Sometimes the make-up people would be taking all the make-up off and they would decide there was enough light that he could do a thing here or do that (so that the film could be done on time) and Michael would have to go back and go through the pain of putting the make-up back on. It really hurt because some the stuff would dry and pull his face. He wasn't much of a social butterfly," Kenny explained when asked his thoughts on the young Landon. "He was very quiet and very dedicated to what he wanted to do and he knew what he was going to do. Michael was a great guy. He was not a loner, but not a partier."
While Michael Landon made an impression on Kenny, he is also just as ready to praise the rest of the cast and crew from this cult classic. "Of course we had Whit Bissell, a wonderful actor and who was a no nonsense type. Gene Fowler (the film's director) came in and this was his first job directing. He had originally been a film editor and he was a wonderful director. And of course Herman was there constantly because this was his baby. They cast Yvonne Lime, who was an old friend of mine and who I used to date, as Michael's girlfriend. They cast Cindy Robbins as my girlfriend and Dawn Richards. A lot of popular teenage type actors and actresses.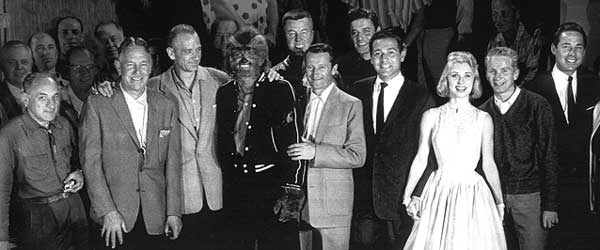 Some of the cast and crew of I WAS A TEENAGE WEREWOLF. From left to right: makeup man Philip Scheer, cinematographer Josesh LaShelle, director Gene Fowler, star Michael Landon (sans fangs) production manager Jack R. Berne, prop master Max Frankel, actor Guy Williams, producer Herman Cohen, actors Cindy Robbins, Kenny Miller and Tony Marshall.
Out of all the supporting characters in this film, Kenny stands out and is remembered more because of the song that he performs in the film, "Eeny, Meeny, Miney Mo." As Monster Kid found out, this is a song that Kenny enjoys, but he did let us in on something that he is less than pleased with in regard to how it is presented in the movie.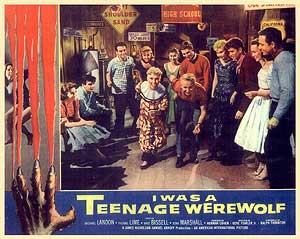 "Normally when you sing a song for a film, you prerecord it, then you lip synch it when you shoot it," Kenny said. "This was such a small budget though that I was told, 'You'll have to sing the song and we'll add the music when we score the film.' I do a dance in the middle of the song with Cindy Robbins and we didn't have any music. We had to count to ourselves for the dance steps to know when the music would come back."
Kenny and Cindy of course came through this beautifully and you'd never know when you see the film that they were dancing without the benefit of music. However adding the musical accompaniment to Kenny's singing wasn't as successful as he found out the first time he saw the finished movie. "We had a 'Coketail' [softdrink] party for the premiere and I was there with Connie Stevens, Troy Donahue and Burt Reynolds and all these singers and we were all in the back of the theater. But they had invited kids to the party as well. When we get to the song, it was two measures out of a synch. I was crawling down under my seat because most of my contemporaries are singers too," Kenny told us with laughter in his voice. "Well, the kids are going wild in the audience because they don't realize I'm never quite with the song. I thought, "Oh, my God! How could they let that happen!?!" Afterwards everyone said, "Don't worry, Kenny, they'll fix it." Herman Cohen, the producer, was there and he said, "Kenny, we're going to fix it on the original, we'll put it in synch." The movie then went into popular release and it was not changed. It never was changed."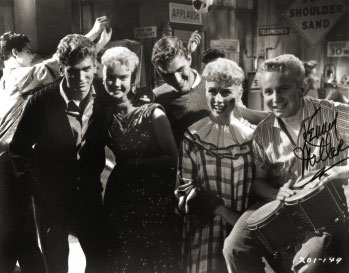 The problem with the song even followed the film into it's international release. "About a year later, I went to Paris, and there was a theater off the Champs Elysees that had been playing I Was a Teenage Werewolf for almost a year," Kenny told Monster Kid. "I went and I was going to see myself and the song in French. I was waiting to hear the song, but foreign films do not dub sub music because it cost too much money, so there was the same doggone song out of synch!" As proud as he is of his role in the film, his song and the way it was mishandled still bothers Kenny to this day. "I've done some gatherings where people show parts from the film and I let them on one condition, that when my number comes on, I get to explain before what happened and I get to leave the room. It drives me crazy and at this point it will never be fixed, but it could have been and it is a great little song."
Kenny's song wasn't the only musical misadventure he faced during the making of this film. "Also, I was supposed to play the bongos, but I could not hit the bongos because of the musicians union. When you see the movie again, you'll have to note that I'm hitting the rim of the bongos. I'm not hitting the bongo part!" Kenny explained that bongo player Jack Costanza was to have been dubbed in, but that idea had to be struck due to budget restraints. "The thing that makes it worse is the dialogue right after I play the bongos. I think Michael says, 'Oh, Vic, you really are a great bongo player!'"