Monster Kid pays tribute to one of the icons of the world of comics, cartooning and illustration. His unique humorous style is instantly recognizable and has brought smiles to the faces of millions over the past five decades. Most famous for his masterful caricature work for Mad Magazine, TV Guide, Time Magazine and many others, Jack Davis will always have a sticky place in the heart of every horror fan. With his many memorable and hilarious interpretations of our favorite creepy characters he proved he was the master of mixing ghouls and giggles. Davis' wacky and witty work graced magazines, bubble gum cards, ads, record albums and posters which are now treasured collectors' items. And, according to the U. S. Congress, he was one of the artists whose delightfully gruesome work in the classic EC horror stories of the 1950's helped warp a generation with twisted tales of terror in comics like Tales From the Crypt.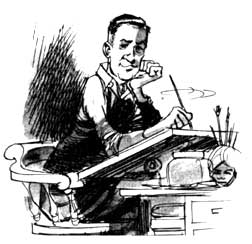 We now present a ghoulish gallow-ry of some of Jack Davis' fiendish funnybone ticklers monster fans have loved for decades.
left: The famous 6 Foot Frankenstein poster. The picture appeared in Captain Company ads for years making it one of the most familiar images of the '60s and '70s to monster fans.
right: A self-portrait
of Jack Davis at
the drawing board