• Wow! Just went to issue #3 and I'm really 'diggin' it so deeply! The issues, content and web-style are getting (like a fresh cadaver) cooler and cooler! I love the way you have set it up where one can thumb thru page by page. I reminds me of getting a new monster magazine and do what so many of us monster fans do..... Thumb thru each page front to back before actually burying yourself in any of its ghoulish articles! To top it all off.... I was so amazed at all those great 3-D Photos!!! I've never seen so die-namic of a photo, rendered in 3-D on the web like this! Those creature claws are so real and scary! Luckily, I have some 3-D glasses here. I also collect 8mm films and have a few in 3-D like CREATURE FROM THE BLACK LAGOON (Super8, Sound, 18 minute digest). Would you mind sharing the software program you use for such beautiful 3-D still work?
I'm in the process of starting up a web(grave)site on my favorite TV Horror Host of the 60's.... 'Baron Daemon' from Syracuse, New York! Also have written an on-line article in 1999 for Horror-Wood.com called 'Confessions of a Monster-Mad Fan!" This has to do with mainly my monster film collecting and making as a young little monster! I invite you to read.
http://horror-wood.com/fan.htm
Monster Kid Magazine Forever!!!
Die for now,
Monster Man Dan Phillips

Nice article, Dan. Many of us remember those pre-home video days of 8mm films and taping the audio of movies from the TV. Thanks for the raves about our 3-D pictures. No special 3-D software was used, just Photoshop combined with a little bit of old fashioned mad genius.
---
• Hi! I'm a 46 year-old cop from Philly. I've been one for 25 years. I got an e-mail from your site so I decided to go on it. What a COOL site you have!!!!!! You brought back a LOT of great memories for this monster fan!! I've loved monsters since I was about 5 or 6!! My all-time fav was the Gill Man, followed closely by Pumpkinhead & Michael Myers! Thru the last 10-15 years I've been to a lot of conventions & had the pleasure of becoming personal friends with a few "monster celebrities". One in particular, my all-time fav, Ben Chapman!! What a SUPER guy!! Well, I don't wanna BORE you with all my dribblings, I just wanted to give you "kudos" on one helluva GREAT site!!! Thanx for the memories!! I've got you on "My Favorites" now so I can drop in from time to time!!
P/O Dave Littman
Philadelphia Police Dept.

Thanks for adding us to your favorites, Dave. Good to know one of Philly's finest is a monster fan. We agree about Ben Chapman. Gill Men don't come any nicer than him.
---
• Here's what I went as for Halloween this year, accompanied by a picture from last year. I went to West Hollywood both times, and the interesting thing is, Nosferatu was treated as a sex symbol with lots of scantily clad girls making very bold sensual overtures, while Grandpa was treated with great affection and lots of warm hugs, like you would a real grandpa.

Mike Swofford

Mike - Thanks for the cool photos of your excellent Nosferatu make-ups! We can't wait to see what you do this year.
(Note to self - When there are scantily clad girls around, dress as Nosferatu, not Grandpa!)
---
• Greetings my monster friends. I have enjoyed your ezine very much. Being a lifetime collector, fan and monster lifestyler for 36 of my 42 years (the first six years I had to learn some other things) I have amassed a collection that is my home. It fills all of my 9 rooms. I know that there are others out there like me also with wonderful collections, but for some reason most magagzines and even ezines don't seem to want to give recognition to us that have kept the monsterdom alive so to speak. I have a website that I dedicated to my home, life and collection called the Monster Museum. What I am getting at is alot of us would like to see each others collection and drool a bit. How about some coverage? Movies are great, but if not for the fans it would be no need for ezines or magazines. Keep up the great work.
Bobby Gammonster

Nice site, Bobby. We always enjoy seeing photos of other monster fans' prized possessions. Perhaps in the future we'll do a feature to spotlight some of the great monster collections out there so keeps those photos comin'.
---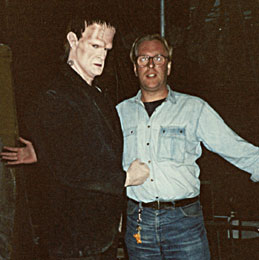 • Hi. It was worth the wait for issue number three. Being a monster kid myself paid off a few years ago when I did an electric company commercial for British TV. I was Frankenstein's dog!. Keep up the good work for us oldies who found the monsters back in the 60's. Beast wishes.
Dave Showler
P.S. I'm the one on the right!

You don't have to tell us which one you are, Dave. We know a dog when we see one. Looks like that handsome dog catcher is about to pound you.
---
• Dear Editor: I just found ya! Am an old monster kid, and my son just had a Halloween Party for his friends in our basement. Came to the old master, me, to get advice on the makeup for Franky. No problemo there -- I've done Franky many times, many ways. At 6'4", it's really kinda easy, but I sure as heck now need a wig. Anywho, found your site when a column I was writing for my webzines required the correct spelling of make-up genius Jack Pierce of Universal. I'm a monster dude from way back, and remember clearly that first day Universal and I got together on Sputnik Day, Friday, October 4, 1957. And October 4 fell on Friday this year again. That's the Friday I first saw "Shock Theater," and the second day of the Thursday, Friday and Saturday runs of the old Universal horror flicks. First weekend was Dracula, second Frankenstein, third Invisible Man, fourth Werewolf of London, fifth Wolfman, and on. Was thinking of revisiting my old neighborhood in NYC, but thought better of it. The scene in my memory is probably much better than the way it looks today. I used to terrorize the neighborhood as Frankenstein and Kharis -- we used to act out parts of the movies. Favorite was Mummy's Hand. We even had an old brass flower pot stand we used for the tanna fluid. Loved the music too: Previn, Salter, Skinner, Waxman; you know! We had tape recorded the music from Mummy's Hand (Skinner and Salter, I believe). Since I opened the door on NYC, the ABC Channel 7 host that eventually took over "Shock Theater" was John Zacherly, who's still around in my neck of the woods -- New Jersey. I enjoy the site -- keep it up -- I have much more reading to do on it!
Best,
Ted Lang

Thanks for the memories, Ted. Not many of us can say we were there for the beginning of Shock Theater and the monster craziness that followed.
---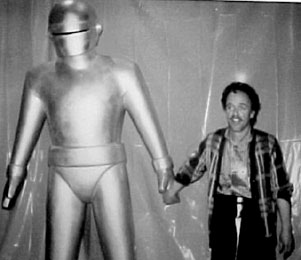 • Yes, YES, I was and am one of those kids lucky enough to have the original Shock Theater as TV buddy back in late 50s. Had my own make-up kit and my own brother to work on. Got into movies later and every time I sit in that make-up chair I have a fond recall to the days when I wanted to be like Dick Smith or Jack pierce. Also, saddened by death of Peggy Moran whom I met several times in LA convention gatherings. Much good luck with this. Long overdue since the demise of "Famous Monsters."
Michael C. Gwynne

Glad to have you with us, Michael. Always good to find out that there are monster kids in the movie business today. Above is a photo from the set of the sci-fi movie CHERRY 2000 in which Michael played a robot builder. The original
Gort prop from THE DAY THE EARTH STOOD STILL
made a cameo appearance in the film thanks to Michael who discovered him on display at a camera store!
---
• Great site! A flood of memories came back to me as I explored Monster Kid. As a child I anxiously awaited WOI-TV 5's Gravesend Manor Saturday night horror show. The ABC affiliate broadcast out of Ames, directly to my home in Northern Iowa. I had to sit through some inane country music shows like "Bill Anderson" and "Bobby Goldsboro" before getting to the spook show. I remember sitting with my sleeping bag, bowl of popcorn (I still have the old metal bowl) and a glass of icy Coca Cola, thrilling to the images of those awful Mexican wrestling/horror movies and, on occasion a classic like "Frankenstein Meets the Wolfman" or "Revenge of the Creature". As a 40-year-old who has the complete Universal Horror Video collection and who has turned my son on to my old Famous Monsters, Creepy and Eerie magazines, thanks for this wonderful site!
Mark Spangler

Mark - Your letter reminded me of the country music shows I sometimes sat through while waiting for the Saturday night horror movies to start here in Ft. Worth, including Porter Wagoner, the Wilburn Brothers, Cowtown Jamboree and Cowboy Weaver (the worst lip-synch singer ever who I am shocked to learn is still performing!)
---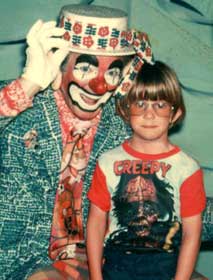 • Cool website, reminded me of this old 70's pic of my pal Eric Eyster... a fellow Monster Kid like myself since day one. He'd sell his soul to still possess that CREEPY shirt today, me too. Also, he's sitting on the lap of a local St Louis MO newscaster / part time clown Cliff St. James who called himself Corky. He had his own local TV show kinda like Bozo or Krusty The Clown and Eric was on there once when another friend of his had a televised birthday party. So who's creepier? The kid or the clown? I think it's a tie.
Stephen Banes

It would be interesting to switch those two faces and see if it made a difference. Pretty bizarro looking either way.
---
• My dear Count Gamula,
Just discovered your Magazine quite by accident while prowling the web looking for information on one of my favorite subjects, the Monsters I loved as a kid. I was instantly impressed by the quality of the work and found myself in the back issue department. Your initial remarks in Issue #1 struck very close to home. I had just been pondering those wonderful Friday nights when our local version of Shock Theatre came on after the evening news, when I first discovered the magic of Universal horror films and where a lifetime love affair began. You hit the nail right on the head. Forty years have passed since those wonderful, magic-filled nights of discovery and thrills, but to this day, hearing the opening strains of the old Universal Theme brings goosebumps to my arms even as it did back then. You have also captured the spirit of those exiting days with this marvelous magazine. I was a kid again discovering my first issue of FM. Keep up the good work.
Most sincerely,
Dan Gunther

We'll try, Dan. Although Monster Kid can't bring back those glorious monster-filled days of the past, if we can remind you a little bit of what they felt like, then we're as happy as the Invisible Man on a warm day.