What's that? So WHO showed up to see this FREE show over five nights during Halloween? Besides the crowds of fans who came to enjoy the frightening fun, here's a list of the top genre filmmakers and creature creators in the world that attended and screamed in delight: Rick Baker, John Landis, Frank Darabont, Bernie Wrightson and Guiermo Del Toro! Greg Jein, Don Glut, Don Coscarelli, Bill Malone, Mick & Cynthia Garris, Robert Kurtzman, Greg Nicotero and Howard Berger (of KNB Effects), Randy Cook, Angus Scrimm, Ann Robinson, Frankie Thomas and Jan Merlin (stars of Tom Corbett, Space Cadet), Tom Weaver, Scott MacQueen, Jan Henderson, John Morgan, Bill and Beverly Warren, original Thing movie cast member William Self and yes, even Count Gamula showed up from the Lone Scar State to work in the show. Last but not least, Texas' own master fantasy sculptor, Joe Riley, who created masks and hands for this awesome event, showed up for the occasion and surprised Bob with a new Glenn Strange Frankenstein mask for his collection.

I hope many of you were able to enjoy the historic horror event in person. If not, then don't miss he DVD when Bob Burns' The Thing invades the DVD racks sometime next year. Pleasant dreams for now, creepy kiddies, and remember, when you are shivering in your bed tonight just keep telling yourself over and over, "It's only a Halloween show." For more info on the show check out the official Bob Burn site at:
http://mycottage.com/bobburns/index.html

Tell him Spooky Sam sent you.

Editor's note: Spooky Sam Park, a writer based in L.A., fulfilled a Monster Kid's dream this Halloween by becoming one of the crew of the Bob Burns' Halloween show. I know it was lot of hard work but I also know how much he enjoyed being a part of it. Bob told me, "Sam's one of the most hard working and helpful guys we've ever had on a show. But don't tell him I said that. " Don't worry, Bob. He won't hear it from me.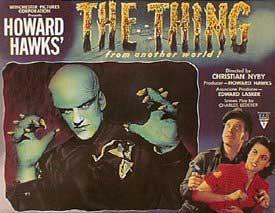 Howard Hawks' film classic THE THING, a perfect blend of sci-fi and horror and the perfect choice for an exciting new Bob Burns Halloween show.
Turn the page for THE THING photo Gallery