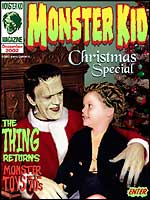 The ever-popular Donnie Dunagan tells this Grisly Kris Kringle what he wants for Christmas on our special Holiday Season cover.
Seasons Greeting, monster lovers!
Welcome to Monster Kid's special holiday update. We thought you deserved one more present in your stocking this ghoulish Yule, so we had the trolls at our workshop uploading overtime to bring you this mini-edition of every fantafan's favorite webzine. They say good things come in small packages and when you unwrap this issue and see the gruesome goodies it contains, we think you'll agree.
First, TV horror host Professor Griffin recalls a special Christmas with his favorite monster toys of his childhood. If you have fond memories of finding monsters under the Christmas tree, we're sure you'll enjoy it.

Next, is our special report on a recent event so exciting it had half of L.A. buzzing about the return of two Hollywood legends: THE THING FROM ANOTHER WORLD and the Bob Burns Halloween show.