The Immortal Count
The Life and Films of Bela Lugosi

by Arthur Lennig
University Press of Kentucky
"He'll be back."
No, no one really said that at Bela Lugosi's funeral in 1956, but those apocryphal words have turned out to be truer than even the most dedicated Lugosiphile could have imagined. Even as technologies and tastes change, the awkward Hungarian seems downright eternal, relentlessly celebrated almost 50 years later in documentaries, magazines, soundtracks, DVDs, books and CD-ROMs. Bela, it seems, never left the building at all.
Some of the work has been groundbreaking: Gary Don Rhodes, David Skal, Frank Dello Stritto, Gregory Mank, Tom Weaver and many others have all  interviewed co-stars and stagehands, uncovered lost contracts, visited catacombs in Transylvania or pored over newspaper clippings in Prague. Rhodes, in particular, has been the Woodward and Bernstein of Lugosi research.
Now one of the original Lugosi scholars, Arthur Lennig, has revisited the entire Lugosi mythos with what must stand, for now, as the definitive biography, THE IMMORTAL COUNT: The Life and Films of Bela Lugosi. Originally published in 1974, this revised version is twice the length and takes Lennig back through everything -- including his own research -- to trace once again the Lugosi legend, from aspiring actor and almost-idol in Europe to exile and rebirth in America as an icon of the undead.
From forgotten newspaper notices of Bela's earliest years in Hungary to his politics, his wives, his attempts to escape his monstrous image and onward through his vague years in the early 50s, Lennig portrays an actor who came to America not as a teenager but as a working adult, a Balkan stranger in a strange land who was more level-headed about his profession and his aspirations than is widely believed. New details about Lugosi's earliest years at Universal confirm growing evidence that it was James Whale, and not Lugosi's pride, that kept him from playing the Frankenstein monster. Lennig posits that despite Lugosi's objections, he would have been perfectly willing to play the monster. As Lugosi said to one of his interviewers, "I make a living."
Lennig cites a legion of fans and researchers to uncover lost years and debunk what many thought was central to the Lugosi mythos up to now: Yes, Lugosi was frustrated, but the life portrayed here is far rosier than a vampire might deserve. Lugosi's financial difficulties were deep but infrequent. Sinatra did try to help Bela in his later years, but Lugosi worked more than many suppose and lived quite well. The estrangement between Bela and his son was deeper than has been revealed, and court documents open a raw look at family distrust and struggles over legacies and fame.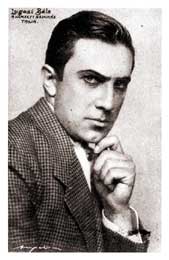 The work is compelling because of the journalistic style. Page by page, year by year, footnote by footnote, you feel you're getting the real deal. In fact, the book is so thoroughly researched that on those few rare occasions where Lennig steps into horror fan advocacy, the shift is downright jarring. Lennig unaccountably fills in the blanks at times, putting motives or beliefs into Lugosi's head, based apparently on the weight of Lennig's lifetime acquaintance with the subject. If there are two sides to a dispute, he usually picks Bela's version. He minimizes Lugosi's drug use on movie sets, which has raised some eyebrows among witnesses. And he so passionately defends some of Bela's films or roles that he gets testy with writers who hold different views. It all feels out of place in a book where facts, not opinions, are carrying the day.
Those looking for something truly eye-opening will be riveted by the final chapters, where there is a gripping series of encounters with Bela's last wife, Hope (who also can be seen in Rhodes' DVD documentary), and a fierce take on Bela Lugosi Jr., who is portrayed as only interested in his late dad as product. I don't doubt Lennig's characterizations -- young Bela does NOT come across well -- but I ached to hear Lugosi Jr.'s version of it all. Yes, the son of Dracula declined to participate, and Lennig does rely upon public records. But even a friend of Lugosi Jr.'s point of view might have been a nice bit of balance.
Still, these are quibbles because the work itself is a monumental and lifelong job of research and investigation. Even with his occasional knocks at other writers, he generously and repeatedly credits their work, and the footnotes are voluminous and impressive. And while it threw me a bit, in truth who more deserves to have an opinion about Lugosi than Lennig, who met Lugosi as a child and never lost his fascination?
The book is somewhat pricey -- $35 -- but it is a cornerstone of any horror collection, let alone a Lugosi library. The book is available from the University Press of Kentucky or amazon.com and Lugosiphiles should not let another walpurgis come and go without it.
Or, as a very old man said a long time ago, "Excellent, Mr. Renfield. Excellent."
David Colton
David can be reached at taraco@aol.com