THE FATHER OF MONSTER KID:
MONSTER NEWS TALKS WITH
KERRY GAMMILL

Recently Cheryl passed along to me some great news about an online horror publication called Monster Kid. She had gotten wind of it from a reader of Monster News who thought we might want to check this publication out, especially since the editor of Monster Kid was modeling it on the classic monster magazines of the 1960's. I decided to check out Monster Kid and I was quite taken with what I saw. The issue that is currently online is the second one. Two highlights of this edition are an interview with Peggy Moran from "The Mummy's Hand" and a piece by Bill Warren relaying his visit to the set of Boris Karloff's final films in 1968. Both of those articles are really impressive, but the one piece that really caught my eye was an article called "Texas TV Terror". This was a pieceabout the Shock Theater series "Nightmare" which starred the Ft. Worth-Dallas horror host named Gorgon. Now that article is really something! The piece featured some super photos of Gorgon (aka Bill Camfield) and it was lead off by a great black and white illustration of the horror host. Now, the name of the artist behind that portrait is one that is very familiar to me, Kerry Gammill. Kerry also wrote the article and, as I later found out, he is the editor and founder of Monster Kid.
As I said, I knew who Kerry Gammill was right off the bat. It was from the comics field that I first heard Kerry's name mentioned back when I was in high school. For those of you not in the comics know, Kerry Gammill is a talentedartist whose work has appeared in both Marvel and DC Comics. As an avid comic book collector in my high school days, I discovered his artwork in such comic book favorites of mine as The Further Adventures of Indiana Jones and Superman. I was quite taken by his work back then as he had a nice, realistic style to his work. At the time I also thought his work was very similar to that of John Byrne with just a bit of Ron Frenz thrown in for good measure (keep in mind that both were of those gents were big influences on the Marvel style of art back in the early and mid 1980's). Long story short, I thought the man could draw and he seemed to be attached to quite a few books that I enjoyed. When I entered college, I tended to drift in and out of comic book collecting (due to a short supply of cash. That is one of the great hazards of pursuing a higher education). But even though I wasn't collecting comics as regularly, Kerry's artwork had still left an impression on me. That's how I remembered who he was when I happened upon his name again a few years after college. This time it was in Elena Watson's excellent book, "Television Horror Movie Hosts". Through this volume I learned about Kerry's involvement with the early 1970's Ft. Worth-Dallas horror host show "The Museum of Horrors". When I first read the entry in the book on "The Museum of Horrors", I wondered if this could be the same Kerry Gammill I remembered from my early comic book collecting days. Sure enough, it was the same person. Elena mentioned in her book that the Kerry Gammill that had worked on "Museum of Horrors" had done artwork for the show and had entered the comic book industry as an artist after it left the airwaves.
So now with Monster Kid I found myself again coming across the work of Kerry Gammill for a third time. I had decided before I even knew who was responsible for this magazine that I had to interview them for Monster News. Given Kerry's experience as a comics artist, a horror host and now a monster magazine editor though, he was the perfect triple threat as an interview subject. For right now, Monster News will be talking to Kerry about Monster Kid. We got the scoop on this new online publication that we know you readers will all want to check out. So, without further delay, lets rap with the father of Monster Kid, Kerry Gammill:
---
MN: Tell our readers a little bit about yourself, Kerry. What is your background? How did you get started in the comics business?
KG: I was a kid in the early 60's which was a great time to be a monster fan. The Universal Monsters were everywhere because of the craze started by Shock Theater on TV. Beside the movies, there were monster trading cards, magazines, model kits, games, toys, etc., in almost every kid's room. In the Ft. Worth-Dallas area where I've lived most of my life, we had one of the greatest horror hosts ever. His name was Gorgon and he hosted a very spooky show called "Nightmare" every Saturday night. That's where I saw all the classic horror films for the first time which turned me into a major monster nut. I recently discovered that a tape of "Nightmare" survived. Seeing it again after so many years was an incredible experience and inspired me to do the feature on Gorgon that is in Monster Kid #2. As for comics, like a lot of kids who liked monsters and science-fiction, I later started reading Marvel Comics which had lots of great characters and some very exciting art. I was always good at drawing so it was pretty much expected that I was going to be a professional artist someday. I made some efforts to do magazine covers. In fact Famous Monsters almost used one of my paintings once. But by the time I was ready to turn pro in the late 70's, there wasn't much monster work out there. I ended up doing super-hero comics instead and worked for Marvel and DC off and on for about 20 years.
MN: How did Monster Kid come about? What gave you the idea for this online publication and what were some of the printed inspirations for it?
KG: The name itself came from an online friend named David Colton (front page editor of USA Today). There's a hangout on AOL called the Classic Horror Film Boards where a bunch of fans (including some very well-known names) discuss important issues like "Was Lon Chaney Jr.'s character in "Son of Dracula" really Dracula's son or was he actually Count Dracula himself?" You'd be surprised how heated that discussion has become at times. David wrote a great little compositionon the boards one Halloween that really captured what it was like to grow up during those days when the classic monsters were such an integral part of being a kid. He dubbed our generation "The Monster Kids" and the name stuck. Monster Kid Magazine sort of happened by accident. It's a long story. I first decided to create a website to help promote a book of my art that was about to be published. Besides doing comics, I spent a couple of years as a conceptual artist for a special effects house in Hollywood called XFX. It was a great job because I got to draw weird creatures all day and see some of them come to life in movies and TV shows. Designing aliens for "The Outer Limits" was one of my favorite parts of that job. Those drawings along with examples of my comics work were the basis for a book (whose title makes me cringe) called "Kerry Gammill's Drawing Monsters and Heroes For Film and Comics".
I left the special effects biz to become an art director at a new promotions agency back in Dallas that needed artists to help design and do presentation art for items like kids' meal premiums. I had been using computers for awhile already but at the agency I learned much more about different graphics programs and really perfected my skills with Adobe Photoshop. For practice I began colorizing black and white monster photos, trying to make them look as natural as possible. One of those picture was Lon Chaney, Jr. as The Wolf Man with Moose, the German Shepherd Chaney enjoyed having around at Universal. It's a funny picture of the two and after I colored it I started playing around with it a little more. I got the idea to make a fake magazine cover out of it and send it to all my fellow fans in the AOL group. I used our new nickname "Monster Kids" as the title and made up cover blurbs like "Lon's Pal Moose" and "Bela's Beards" having a little fun with the kind of copy typically splashed across the front of the magazines we had all read as kids.
Meanwhile, back at the web... Once I decided that I needed a web presence and got signed up with a host, I started trying to figure out how to build one of those newfangled webpages. I knew nothing about htlm, and still don't know much, but using some automated site-building software, I created a site displaying my art and plugging my book. When I had finished with the first site I still had plenty of web space left. I had gotten pretty good with the software by then and wanted to see what else I could do. I remembered that among the site templates available was one for building a web magazine. That gave me the idea of actually fleshing out my little fake cover into a fun monster site and I created the contents based on the cover blurbs I had already written. Once I got going, it kinda snowballed. I kept getting more ideas and was getting more fun and satisfaction out of building Monster Kid than anything I had done in a long time. Of course the main inspiration for the style was the original Famous Monsters, including the bad puns and young-spirited tone.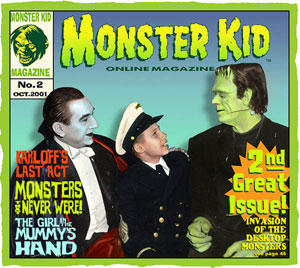 MN: And what is the primary focus of Monster Kid? Is it strictly classic monsters?
KG: It's pretty much anything that would have appeared in a real monster magazine of the 60's or 70's. The Universal films and their stars are certainly the cornerstone, but I want to include 50's sci-fi, Ray Harryhausen, Hammer films or any other cool and fun stuff that I think would appeal to fans of the genre. But my goal is to capture some of the spirit of those early Warren magazines so I'll be staying away from the type of thing you might be used to seeing in newer publications like Fangoria.
MN: Who are some of the other contributors to Monster Kid and how did they come to work with you on this publication?
KG: I've made some good friends in the past few years online and at conventions, etc., and they've been great about helping me out when I ask. Tom Weaver let me use some of his Bob Burns interview about Charles Gemora before it was published in Monsters From the Vault. It worked out well for everyone because John Landis saw the piece in Monster Kid and asked to use it in a book he edited called "Best American Movie Writing 2001". For the second issue Bill Warren revamped an old article he wrote about meeting Boris Karloff on the set of his final movies and watching him perform. He also contributed some previously unpublished photos he took on the set. Others like Frank Dietz, Robert Aragon, Scott Essman, Bob and Kathy Burns and Michael Brunas have helped me out with art, photos, and information when I've needed it for which I'm very grateful. Let me also add that I am open to submissions from others who would like to contribute.
MN: What are your plans for Monster Kid? Are you planning to keep it as an online publication or might you someday venture it as a print publication?
KG: Doing an actual print magazine is a tremendous amount of work and, with the distribution problems many genre magazines are having these days, would be quite a financial risk. I'd rather just have fun doing it as a hobby on the internet rather than have the pressures and worries involved with turning it into a real business.
MN: Speaking from experience, there are certainly other major advantages to taking your publication online as opposed to print besides just the financial concerns. For example, you can get information out to your readers much faster and I think we tend to stay on top of the game more. What other advantages do you see with keeping Monster Kid strictly online?
KG: I wanted to include things that could not be done in a print magazine like the Wolf Man transformation in issue #1. I'd been playing with that idea for a long time. After lots of hunting I finally found two photos of Chaney Jr. as Larry Talbot and The Wolf Man from the same angle and with similar lighting. Then I blended the two images little by little to create an animated gif of a Chaney [to] Wolf Man transformation never seen before. I've got other multimedia things I'd like to use, but it's tough to do something cool that doesn't take forever to download.
MN: What is the printing status of Monster Kid? How often do you produce new issues and how can folks sign up for it?
KG: There's no real schedule for the magazine, although I hope to put out new ones fairly often. Because of certain circumstances it took me several months to get around to creating the second issue. It ended up being a bit more involved than the first issue too. I'm planning to scale back the amount of material in future issues so I can get new ones up for frequently. I'd like to shoot for a bi-monthly schedule and keep going for as long as I can keep coming up with fun material that I think monster fans would like to see. I've added a spot on the editorial page where readers can get on the mailing list and be alerted to future issues.
The fun with Kerry Gammill isn't over yet. Come back next month when we'll be talking with Kerry about his days on the Texas horror hosts show, "Museum of Horrors". It's a horror host interview you won't want to miss! Meanwhile, be sure to check out Monster Kid on the web. The website address is: www.monsterkid.com. Also make sure youcheck out Kerry's personal website for his terrific artwork. The website address for that is: www.gammillustrations.com